Tech
LaserPecker LP2 | Full Review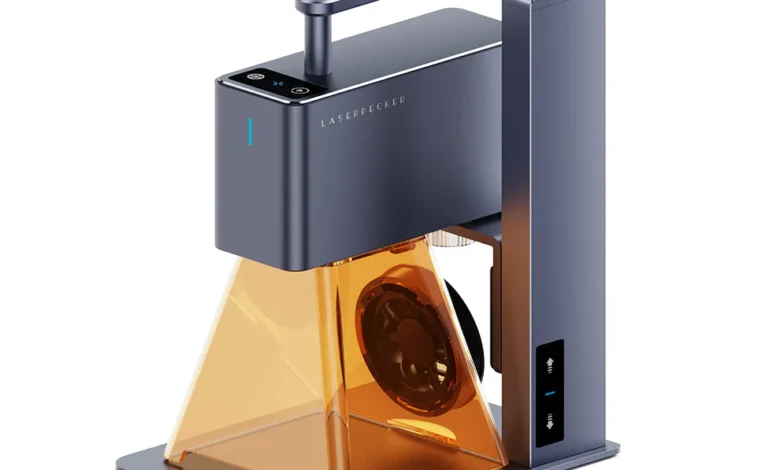 Dive into the world of creativity and precision with the LaserPecker LP2 Laser Engraver & Laser Cutter. This innovative device simplifies intricate cutting and engraving tasks with just a few button presses.
Unravel its exceptional features, functionalities, and contributions to various crafting projects in this comprehensive article.
What is the LaserPecker LP2 Laser Engraver
The LaserPecker LP2 Laser Engraver & Laser Cutter is a versatile gadget that allows you to customize multiple surfaces with engravings and cuts. It is portable, user-friendly, and uses advanced technology for high precision and quality work. This device is suitable for business, creative projects, and personal use, working on various materials, including wood, paper, leather, and some metals.
Main Takeaways
The LaserPecker LP2 Laser Engraver & Laser Cutter is a highly versatile tool, capable of engraving and cutting various materials like wood, leather, fabric, and more. Its suitability for both hobbyists and professionals makes it incredibly versatile.
It boasts various safety features, including a password lock, motion detection, laser safety goggles, overheating, and overload shutdown. These traits make the device not only efficient but also safe to use.
The LP2 comes with mobile app connectivity, providing a user-friendly interface that enables users to design patterns and adjust engraving settings easily. Its compact size and portability also make it convenient for on-the-go use.
You will want to use LaserPecker LP2 for these reasons
The LaserPecker LP2 Laser Engraver and Cutter can be used for various purposes, owing to its ability to engrave or cut various materials. Here are some use cases:
Personal Art and Craft Projects: It's an excellent tool for hobbyists and crafters. You can engrave or cut intricate designs on wood, cardboard, fabric, or plastic for various DIY projects.
Customizing Personal Items: You can use it to engrave names, initials, or special dates on personal items like jewelry, wallets, phone cases, laptops, or watches. This adds a personal touch to things and can serve as a thoughtful gift idea.
Designing Promotional Materials: Companies can use it to engrave their logo or company name on promotional items like key chains, pens, USB sticks, notebooks, or business cards.
Personalizing Kitchenware: You can use the LaserPecker to engrave your family name or some designs onto your cutting board, coasters, cups, or utensils.
Educational Purposes: It can be used as an educational tool for students to learn about lasers, engraving techniques, and material science.
 Leather Production: It can produce intricate, customized designs and personalization on leather products.
 Making Architectural Models: Architects and designers can use it to cut architectural models from materials like wood or acrylic.
Please remember that LaserPecker LP2's operation should always adhere to its safety guidelines, and it is not suitable to cut or engrave on any material that can be harmful when laser-cut such as PVC or materials containing chlorine or bromine.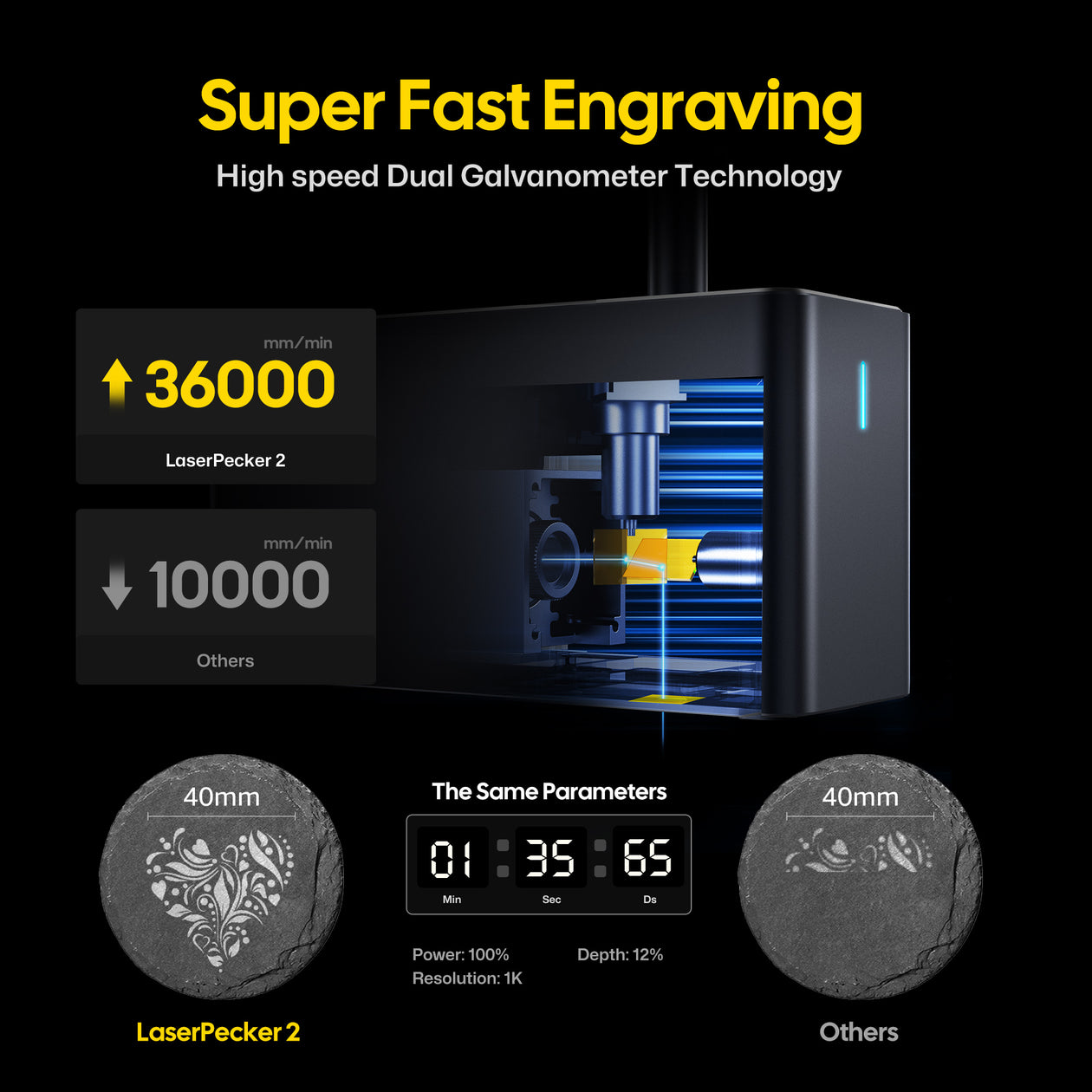 Features of LaserPecker LP2
Compact and Portable Design: This feature makes it easy to carry and fits easily in a backpack, allowing users to engrave anywhere at any time.
Full-auto Focus: The LaserPecker LP2 automatically adjusts its focus before engraving, so you don't have to.
Rotary Engraving Mode: This feature allows users to engrave on curved or irregularly shaped objects with ease.
Preview Mode: Before engraving, users can preview the tracing path to determine the position and size of the design.
High-Speed Engraving: The laser engraving speed of LaserPecker LP2 is up to 600 mm/s which is faster than traditional engravers.
Powerful APP: An easy-to-use mobile APP is available for both iOS and Android devices to provide an optimal user experience.
Built-in Protection: For safety, the device is equipped with overheat shutdown and motion detection; it will automatically turn off power if it finds a movement or an excess temperature.
Multi-Material Engraving: It can engrave a multitude of materials, including metal, wood, paper, leather and plastic.
Long Lifespan: Advanced tech extends the working life of the engraver to 10,000 hours.
Pros and Cons
Pros:
Portable Design: The machine is compact, lightweight, and highly portable. It becomes possible for you to carry it easily to where the task is at hand.
User-friendly: The LaserPecker LP2 integrates with a dedicated mobile application available for both iOS and Android, meaning you can operate the machine remotely from your smartphone.
Versatile: This model can engrave on a wide variety of materials such as wood, leather, fabric, paper, bamboo, rubber, glass, and many more.
Auto-Focus: Its significant advantage is its auto-focus adjustment aspect, enabling high-precision engraving.
Safety Measures: It comes with a protective shield for your eyes, an auto-shutdown mechanism activated after a specific time of inactivity, and a password lock for greater safety.
High Precision: It offers engraving resolution as high as 508 dpi and a maximum engraving size of 100 x 200 mm.
Cons:
Limited Power: Due to its compact size and portability, it might not be as powerful as larger, more industrial-size laser cutters or engravers.
Cooling Time: The device may need cooling down periods between engravings, which could prolong the overall work time.
Learning Curve: While it is user-friendly for those comfortable using mobile apps, there may be a learning curve for others, particularly those unfamiliar with digital technology.
Battery Life: Users have reported its relatively short battery life could be inconvenient during prolonged usage.
Advanced Usage: It might not be suitable for complex, industrial-level projects because of its smaller size and lower power range.
Price: The device is pricier than other portable engravers on the market, which could be prohibitive for some users.
Main Alternatives
The Orion Motor Tech 40W CO2 Laser Engraving Machine is a competitor of the LaserPecker LP2. Unlike the LaserPecker LP2, which is compact and portable, this machine is bulky and must be installed stationary. On the other hand, it has higher power and thus can cut through thicker materials. It includes a computer-controlled system to increase precision and scalability, while the LaserPecker LP2 is operated via a smartphone app. Certainly, it leans toward industry and large-scale projects, unlike LaserPecker LP2, which is aimed at personal use and small businesses.
Another competitor is the Dremel Digilab Laser Cutter. While the LaserPecker LP2 is targeted toward beginners experimenting with engraving and cutting for the first time, the Dremel Digilab serves those looking for a more sophisticated experience. It supports a broader range of materials, from wood, acrylic, and paper, to leather and even certain metals. This model also readily integrates with office software, offering use-case scenarios for professional settings as well. It bears an extra layer of safety with a safety sensor installed, which automatically turns off the laser when the lid is opened. While offering more capabilities, it does come with a higher price point than the LaserPecker LP2.
A third competitor of the LaserPecker LP2 is the Meterk DK-BL Portable Art Craft Laser Engraving Machine. This product, like the LaserPecker LP2, is also handheld and portable, but it does not match up to the LP2's power or versatile functionality. Though it provides ease of use and is attractively affordable, the Meterk DK-BL's capacity for engraving depth and size is limited compared to that of the LP2. It also has a significantly shorter battery life. Its biggest advantage over the LP2 is its cost-effectiveness, making it more accessible to the budget market.
Frequently Asked Questions
Q: What is the LaserPecker LP2 Laser Engraver & Laser Cutter?
A: The LaserPecker LP2 is a compact, portable laser engraving and cutting tool designed for crafting, personalization, and convenience. It uses advanced technology to etch and cut various materials.
Q: What materials can the LaserPecker LP2 engrave or cut?
A: The LaserPecker LP2 can engrave on materials like wood, paper, leather, plastic, fruit peel, and metal surface. For cutting, it works primarily on paper, thin wood and leather.
Q: Is the LaserPecker LP2 safe to use?
A: Yes, the LaserPecker LP2 has inbuilt safety features, including an overheat shutdown and motion-triggered stop. It's advisable always to use safety glasses while operating the machine.
Q: How portable is the LaserPecker LP2?
A: The LaserPecker LP2 is compact and lightweight, designed for maximum portability.
Q: How do I control the LaserPecker LP2?
A: The LaserPecker LP2 is controlled via the LaserPecker app, which you can download on your smartphone. The app allows you to adjust settings, choose designs, and manage the engraving or cutting process.
Q: Can I preview my designs before engraving with the LaserPecker LP2?
A: Yes, the LaserPecker LP2 has a preview function that displays where the engraving will occur, so you can adjust your design or positioning prior to engraving.
Q: Can the engraving depth be adjusted with the LaserPecker LP2?
A: Yes, the LaserPecker LP2 allows you to adjust the intensity of the laser, which in turn impacts the engraving depth.
Q: Can I use the LaserPecker LP2 for commercial use?
A: Certainly, the LaserPecker LP2 can be used for commercial purposes and personal DIY projects. However, for large-scale productions, a more powerful and larger engraver might be needed.
Q: What is the lifespan of the laser in the LaserPecker LP2?
A: The LaserPecker LP2 laser has a lifespan of approximately 10,000 hours, providing ample time for a multitude of projects.
Q: What power supply does the LaserPecker LP2 require?
A: The LaserPecker LP2 is powered by a USB connection, making it easy to use with a range of power sources, including power banks, car chargers, and laptops.
Conclusion
In conclusion, the LaserPecker LP2 Laser Engraver & Laser Cutter is a highly versatile tool that simplifies engraving and cutting tasks, enabling professionals and hobbyists to create intricate designs precisely.
Its portable design and user-friendly interface make it an excellent investment for those seeking to enhance their crafting abilities. Embracing innovation and technology, this tool brings your imagination to life in the most efficient and detailed way possible.
Featured Image Credit: ReadWrite Full Review
Source link