Tech
Best WordPress Marketing Plugins for 2023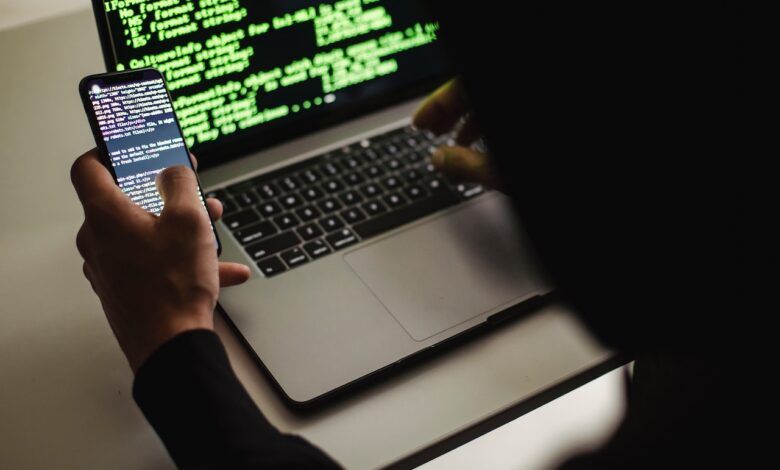 If you're using WordPress for your website, you know you've laid the foundation for a strong business. WordPress powers 43% of all online websites today. And has 64% of the Content Management System marketplace.
Because there are tens of thousands of businesses and developers in this ecosystem, you can scale your business as you like and make it into a marketing powerhouse.
The only trouble is figuring out which are the best plugins you should have to ensure the growth of your brand. There are thousands of free and paid WordPress plugins available, but you want to work with those that are updated and have a good customer service reputation.
In this post, I'll cover the best WordPress marketing plugins for 2023 that will take your business to the next level.
My disclosure is that I've helped develop or grow almost all the tools on the WordPress site. My business also supports the WordPress community in many ways  — something I'm proud of.
However, I guarantee that the following plugins are the absolute best in their niches and will make a difference in driving conversions on your site.
The Best WordPress Marketing Plugins 2023
Let's start with essential but critical marketing plugins to grow your brand. And move to additional plugins you can add to take your company to the next level.
Question: What's the easiest and most effective way to grow your email list?
The Answer: is optin popup forms to collect email ids and build your subscriber list.
A tool like OptinMonster makes it easy to quickly create optin popups that you can display on your website.
The idea is that most people who visit your site will leave and never return. Your best bet to reengage a good portion of them is to collect people's email addresses before they leave the site.
You can set up an optin popup form to appear:
After the user spends a specific amount of time on your website
When they reach the bottom of a blog post
When they're about to exit a page and so on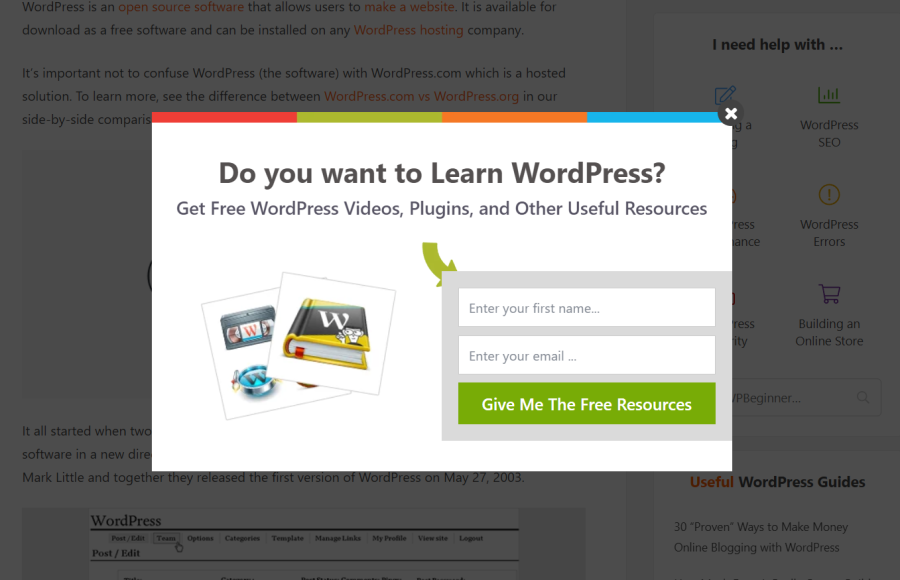 You can use an optin popup form to offer a free download, a discount, or something else to make a compelling reason for people to enter their emails.
You can't grow your business fast and in the right direction if you don't know how it's doing right now. And to get the most relevant details about your website performance, you need to rely on Google Analytics.
However, Google Analytics is hard for business entrepreneurs and owners to use and leverage. This is why you should use an analytics plugin like MonsterInsights.
This plugin gives you a visual platform with all the relevant details in one place. It will show you what traffic you're getting, your audience demographics, and what your top content is.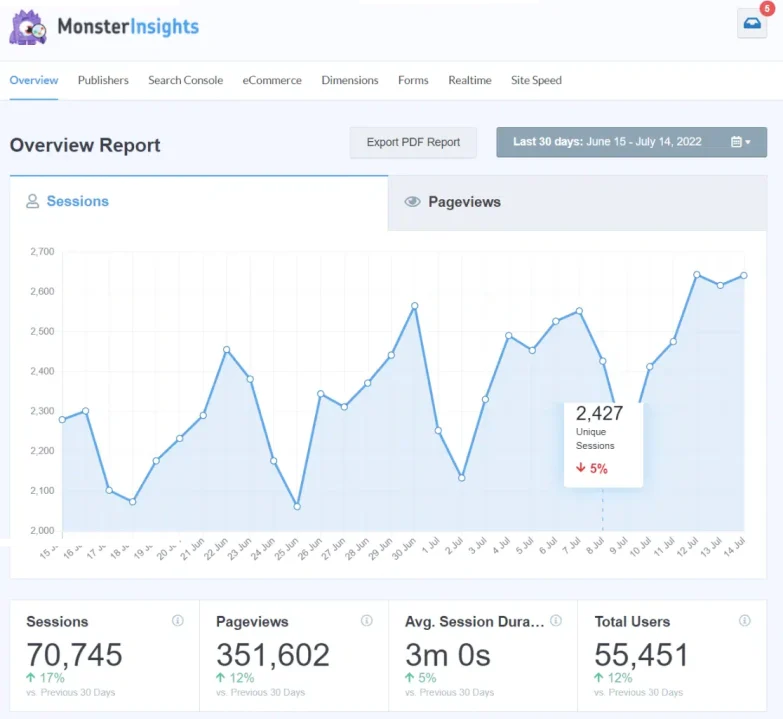 With such insights, you'll quickly learn where you should put your focus and check if you're growing your business or stagnating.
Your business is essentially dead if it doesn't appear on search results pages.
And to ensure that your brand does show up on Google, you need to leverage SEO or search engine optimization.
This refers to the technical and content-based best practices you should follow to improve your website and content. Sounds complicated? It is. Especially when SEO or content marketing are not your areas of expertise.
However, an SEO plugin and content marketing tool like AIOSEO (All in One SEO) make the process a breeze. This plugin will do things like:
Create an XML site map
Add schema markup to your content so Google recognizes what your content is about. For example, schema markup extracts information like star ratings, recipe cook times, cuisines, and so on for food blogs.
Helps you optimize your business for local areas
Manage your robots.txt file to choose what content on your site gets indexed
Audit your site for errors
Improve your blog posts with keyword placements, suggestions for alt text for your images, and much more
As you can see, SEO is difficult at best. And having a powerful tool like AIOSEO to optimize your content makes a massive difference.
You probably don't realize it, but forms make the internet. Almost everything you use is a type of form tool online. You're using a form when you enter something on a search platform.
When entering your credit card details, you're using a form.
And if you want leads for your business, you need to use forms too.
WPForms is the best WordPress plugin for creating forms on your website quickly and easily. You might think that there should be plenty of great form plugins available to use, but that just isn't the case.
Most form plugins aren't responsive to different device sizes and screens. And they have limitations like a lack of payment gateways and so on. This is why I recommend WPForms as a necessary marketing plugin for WordPress.
With this plugin, you can easily build:
Contact forms
Lead generation forms
Forms to collect user-generated content like stories for a competition, feedback, and so on
Event registration forms
Simple order forms
Simple product purchase forms with payment options
Release forms
Beneficiary forms
And just about anything you can think of that requires collecting information and engaging your audience.
If there's one tool you should use here, it's a form tool like WPForms.
So far, we've covered some plugins that I consider essential marketing plugins for all businesses. The ones mentioned before are necessary to engage customers well and to get data to help you grow.
This plugin and the ones that follow are next-level marketing plugins that will help you skyrocket your marketing outcomes.
The first of such plugins is a push notification one like PushEngage. Push notifications are pop-up notifications for websites and apps.
I know that popups are considered intrusive and annoying, but that's not the case when you make thoughtful marketing campaigns aiming to personalize driving value.
A simple push notification can do the following:
Appear to users in real-time – when they're active online, so you know your audience will definitely see your content. This is unlike emails where your reader might ignore your email or open it will later when your marketing campaign is over.
Offer highly personalized content. For example, if your user is on a page for shoes, you can retarget them and suggest a related product.
Reach out to users who have abandoned products in their carts
There are many such use cases. In one of PushEngage's successful case studies, one clothing company held a live webinar for hundreds of customers. And they had technical difficulties twice, leading to the event and participants being cut off.
Thanks to PushEngage's valuable features, they were able to get people back to their event both times because they send notifications to their audience instantly and bring them back.
Push notifications, done right, have higher engagement and conversion rates than any other marketing tool, which is why you need it especially if you have an eCommerce store.
The benefit of social media is that it gives you access to millions of people worldwide. But the problem is that your audience is quickly distracted by other content – even from your competition on the same platform.
Also, your fresh and hard-to-create posts frequently disappear and lose momentum just a few hours after publication. If they ever gain momentum at all.
While social media marketing is critical, how can you best leverage it to keep people on your website and also avoid losing them to other content?
One answer to this problem is to use a social feed plugin.
A social feed plugin like SmashBalloon helps aggregate posts from your brand's social media channels into one single, dynamic stream on your website.
This allows users to quickly get an overview of your content on different platforms without leaving your website.
This plugin also makes it easier to display user-generated content from followers who post about your brand.
Having a social feed plugin is an excellent way to keep people engaged and on your website while showcasing all the amazing posts made by users and produced by your team.
Contest giveaways are great ways to boost engagement on multiple platforms, as they allow you
to interact with your audience in a fun and creative way.
People love the opportunity to get something for free and are likelier to share a giveaway contest with their peers.
However, setting up a giveaway can be complicated; you must create messages, share them on several platforms, collect entries, pick a winner, gather leads, etc.
You want to automate the whole process, and to do that; you should use a giveaway plugin like RafflePress.
This giveaway plugin integrates with email marketing platforms and your CRM (Customer Relationship Management tool). And it will make it easy to set up your contest to go viral with premade templates and 'refer-a-friend' programs.
And most importantly, you can track how your campaign is going and get reports to help you make better decisions in the future.
This plugin is a great way to get more leads and engagement for your business.
A landing page builder is a tool that helps you create pages for your website. They can help you make special pages to advertise sales or products and get people to buy them.
Creating landing pages is essential for marketing because it can be used to increase conversions, collect leads, and more.
For example, if you've ever clicked on an ad, chances are that you've landed on a page created with a landing page builder.
And while there are many tools like this, SeedProd is one of the best for WordPress. It has an easy-to-use drag-and-drop system to help you customize your pages quickly and easily.
Plus, it has dozens of templates, so you don't have to design your pages from scratch.
You can create high-converting landing pages with A/B testing, add forms for collecting leads, and more using this plugin. It's a great way to get more conversions for any website.
So, there we go. I've covered several essential marketing plugins to help you. The tools listed
here have helped thousands of small businesses and individuals reach their goals.
Whether it's getting more traffic and engagement or collecting more leads, these WordPress plugins will help you make it happen.
Use Marketing Plugins to Boost Your WordPress Site Performance
A successful online business or a strong internet presence is a lot of work. But working with the right plugins can reduce a great deal of work and save you time and resources in the long run.
You also build your brand image and boost your marketing outcomes exponentially. A lead generation tool like an optin popup form will build your email list, while a landing page builder ensures that your ads and social media campaigns lead to real actions by your audience.
So, start with one or two of these plugins, and as you see improvements, leverage the rest to go to the next level.
Featured Image Credit: Photo by Sora Shimazaki; Pexels; Thank you!
Source link