History
A Vietnam Medal of Honor Recipient Shares Leadership Lessons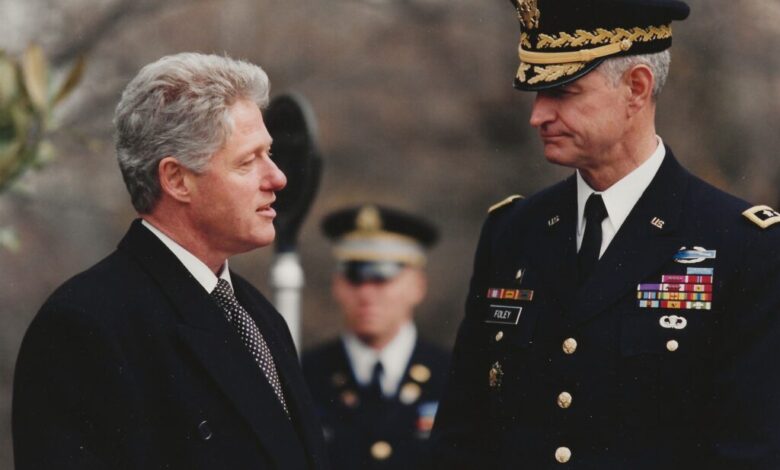 Lt. Gen. Robert F. Foley has led a distinguished career in the U.S. Army. Graduating from the U.S. Military Academy at West Point, he served as a company commander in Vietnam with the 27th Infantry Regiment, famed as the "Wolfhounds," and received the Medal of Honor for his actions during Operation Attleboro in November 1966. Foley subsequently rose to become a battalion and brigade commander with the 3rd Infantry Division in Germany, served as West Point commandant of cadets, and was commanding general of the Fifth U.S. Army.
In his autobiographical book Standing Tall: Leadership Lessons in the Life of a Soldier, Foley offers us an in-depth view of his life and military career. The book contains a detailed account of Foley's life, including his family background, career milestones, interactions with comrades, his marriage, faith, and experiences with mentors. It is a very personal book and there is a lot of material to sink into. Readers of Vietnam magazine will likely be most interested in Foley's overall observations about the Vietnam War and the details of his experiences as an infantryman "in country," especially during Operation Attleboro.
Views on Vietnam
Foley is a battle-tested Wolfhound and it is with justifiable pride that he frequently alludes to the prowess of his regiment, organized in 1901 and fighting under the motto, Nec aspera terrent, meaning "No fear on earth." Fearless in combat, Foley also shows himself to be fearless in sharing his overall views about the Vietnam War itself. Some soldiers are leery of wading into politics, but Foley makes some controversial observations which merit further reflection.
Foley's criticism of the war is not reactionary; he is well-read on the Vietnam War in addition to having experienced it himself, and he cites a variety of firsthand sources as a foundation for his criticisms. Foley alludes with regret to a failed opportunity for the United States to form a working alliance with North Vietnamese leaders, describing how Ho Chi Minh's life was saved by U.S. Office of Strategic Services (OSS) officers in August 1945. "After the OSS dissolution on October 1, 1945, its solidarity with the Viet Minh vanished in the wake of the American and Allies' pursuit of a new world order," Foley writes. He also cites the words of Col. Harry Summers, founding editor of Vietnam magazine, from the latter's work On Strategy: "Every military operation should be directed towards a clearly defined, decisive and attainable objective."
Foley is plainly skeptical of the Eisenhower administration's policies based on an abstract "domino theory." He argues that the Vietnam War "had no clearly defined objective" and that "conditions for declaring war against North Vietnam did not meet the criteria for a national security interest."
The Wolfhounds
On Aug. 5, 1966, Foley became the commanding officer of Alpha Company, 2nd Battalion, 27th Infantry (Wolfhounds) while serving in Vietnam. His descriptions of the actions he took in the war zone demonstrate his competent leadership. For example, his "cure" for VD among his troops was depriving the stricken misbehavers of bed rest and ordering them instead to participate in all regular combat duties, regardless of their physical discomfort springing off helicopters and shuffling through leech-filled rice paddies. The rate of infections quickly dropped to zero.
"We lived with our soldiers 24 hours a day—we knew them and they knew us," writes Foley. He allowed his subordinates leeway to devise deceptive methods to counteract communist forces attempting to infiltrate their base camp in night attacks. Foley also shares humorous anecdotes about his encounter with a bamboo viper and an occasion when he toppled into a well, only to be serenaded by his grinning men later with a new take on an old nursery rhyme: "Ding Dong Dell, there's a captain in the well!"
"Angry As Hell"
Foley describes Nov. 5, 1966, as "the most difficult and devastating day" for his company in Vietnam. During Operation Attleboro, Foley was ordered to break into an enemy bunker system to create a corridor through which trapped comrades could escape back to friendly lines. He and his men were facing NVA regulars, and because the surrounded Americans were so close to enemy bunkers, his options were limited. "I couldn't employ artillery, close air support or gunships," according to Foley. As his group got stalled in dense underbrush and his men fell down shot all around him, Foley got "angry as hell" and took matters into his own hands. Accompanied by Pvt. First Class Charles Dean, who carried ammunition belts for him plus a grenade launcher, Foley swooped up an M-60 machine gun and led a charge against the NVA.
The NVA fled the battlefield taking heavy losses and Foley succeeded in rescuing the hemmed-in U.S. troops. He was wounded by shrapnel from a grenade. Foley was awarded the Silver Star and later received the Medal of Honor for his actions, but above all credits his fellow Wolfhounds who followed him into the fray, saying that their "indomitable spirit…made all the difference."
Courage to Say No
True to its title, the book chronicles the evolution of a young soldier into an effective and capable military leader. Foley shares wise observations about leadership of soldiers that have withstood the test of time throughout military history, such as: "Good leaders make it a habit to get out of the command bunker, walk around the unit area, and be accessible—in the chow line, on the rifle range, in the mess hall, or in the barracks."
Anyone familiar with the history of war will know that military science is not the science of agreement or passivity; the edifice of war history is etched with instances in which commanders have not agreed with each other—this friction is beneficial. Foley shares insights about military leadership in difficult moments.
"Leaders must also have the courage to say no when the mission has unacceptable risk, when essential resources are not provided, or when following orders is simply not an option," writes Foley. "A solid background in moral-ethical reasoning is essential for leaders to feel confident in asserting their beliefs.… They can't walk by the red flags of ethical turmoil and then maintain, during damage recovery, that there were no indicators."
Standing Tall
Leadership Lessons in the Life of a Soldier
by Robert F. Foley, Casemate Publishers, 2022
If you buy something through our site, we might earn a commission.
Source link