Finance
Gen Z Google software engineer says he works 1 hour a day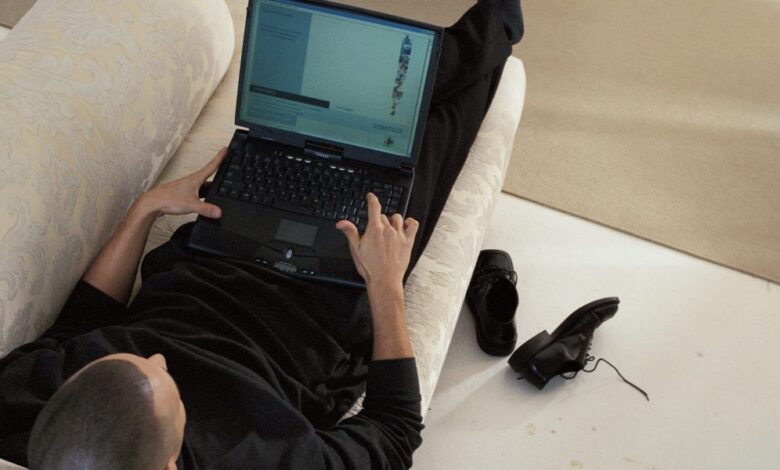 If you're a boss, Devon may be your worst nightmare. The software engineer is supposed to spend his days typically writing code for Google's tools and products. It sounds like laborious work, but he says he only works one hour per day. 
Devon, a pseudonym Fortune is using to protect his privacy, says he begins his week writing code for "a decent part" of any given assignment before sending it off to his manager. That "basically guarantees" him smooth sailing for the rest of the week. He says he typically wakes up around 9 a.m. to shower and make breakfast before working until 11 a.m. or noon, at which point he switches to working on his start-up until 9 or 10 p.m. (Fortune reviewed time-stamped screenshots showing the extent of start-up work that Devon performed during his workday.)
When Fortune spoke with Devon shortly after 10 a.m. Pacific Time, he admitted he'd not yet opened his laptop. Asked whether he was concerned about missing a message from his manager, he said that if he does, "it's not the end of the world—I'll just get back to it later tonight." 
Devon counts himself among the thousands of tech workers who, by their own admission, are paid to do nothing. During a business boom in the early pandemic, companies like Meta, Google, and Salesforce were "hiring ahead of demand," Vijay Govindarajan, a professor at Dartmouth's Tuck School of Business, told the Wall Street Journal. The trend was dubbed "penning," in which companies desperate to hoard workers in advance of what they were certain would be a prolonged growth period made lucrative offers for roles that weren't needed. Many hires waited for tasks that never came; a 2021 poll on anonymous workplace forum Blind revealed that a third of tech workers only worked for less than half of the workday. 
This is exactly what's happened at Google, says Devon, who earns nearly $150,000 a year, according to his offer letter that Fortune reviewed. Leaders were just "buying up everyone they can so they don't go to another company…building a product that competes with Google," he says. When Google laid off 12,000 people in January, Alphabet CEO Sundar Pichai wrote that the company had "hired for a different economic reality than the one we face today" and will focus on hiring only "critical roles" in the future. (Google declined Fortune's request to comment on this story.)
Now, amid rounds of intense layoffs and depressed sales across the tech industry, many of the hires who do remain are left with little to do. That freedom has led some, like Devon, to stretch the outer limits. "I wanted to go for something where I had a lot more time to myself, so I went to Google," the 20-something explains. 
In this sense, Devon exemplifies the stereotypical Gen Zer, doing the bare minimum at work and conserving his real brain power for the things that ignite his passion. In his case, that's enjoying his downtime and logging a legitimate full eight-hour workday on the company he's building with a fellow techie friend. 
Working hard—and hardly working
Ninety-seven percent of Google employees call the tech giant a great place to work—just 57% of a typical U.S. company's workforce says the same. Google is well-known for its suite of benefits; a quirky campus replete with bicycles, gyms, and free meals; and high salaries. In addition to his six-figure salary, Devon received a sign-on bonus and is expecting a year-end bonus, per his offer letter.
When he took the job, Devon knew he wouldn't be working very hard—likely based on his experience interning there. For over $2,000 a week, he says he worked "probably under two hours" a day and rarely went into the office (which was mandatory). He wasn't slacking so much as carefully underselling how quickly he worked; he says he finished all the code for his internship early on, which allowed him to coast by shipping lines of the code to his manager—who he thinks didn't suspect a thing—all summer; he even eked out a week-long trip to Hawaii while on the clock. 
"If I wanted to work long hours, I'd be at a startup," he says. "Most people choose Google because of the work-life balance and benefits. You could work at Apple, but Apple has such fan appeal to software engineers. They work long hours…but at Google, most people know what they're doing is a job."
Devon says he "didn't really bother going for a hedge fund or quant stuff, because they'll pay you like $300,000 but the thing is: You'll actually have to work well over 40 hours a week," he added. "If I can work a couple hours a day—one hour a day—I think the much smaller base [salary] works out."
Higher-ups at the tech giant have extolled the virtue of efficiency, but Devon doesn't think they "actually put any value on it." Google's code of conduct expects workers to be logging full-time hours, leaving personal projects that aren't a conflict of interest for after work hours. But he says nobody has noticed his five-hour weeks because he's able to produce enough in short spurts to ward off any closer inspection—or saddle himself with extra tasks. If someone starts to get suspicious, he'll submit a line of code he had stowed away, acting as though he's been working on it all week. 
"It's not like you'd really get promoted for going above and beyond," Devon says, explaining that he's watched coworkers who have burned the midnight oil for years without getting promoted (as part of a development program that it revamped last year, Google gives workers formal performance ratings once a year and promotions happen twice a year). On the other hand, he says he meets all expectations with his curtailed schedule, making his arrangement "essentially the same thing as working your ass off."  
The payoff of polyworking
Devon's set-up is less rare than it may appear. While some people cut corners at work to increase their chill time, the advent of remote work has also given greater latitude to workers like Devon who are hoping to double up on jobs to maximize profits. Nearly half of workers hold more than one full-time job, a recent Monster report found, though for most of those workers, it's in order to make ends meet. 
Devon is a different case. He makes more than enough money to support his lifestyle, but he's biding his time until he can strike out on his own, no second job necessary. He ideally plans to quit Google to launch his start-up, but plans to boomerang back if it fails; he says Google is very big on rehiring ex-Googlers. 
He also says he flouts Google's return to office policy, which expects most employees to work from the office three days a week, though each department can set its own rules (it considers fully remote work in exceptional cases). That "doesn't work for him," he says, because it makes him feel like managers are a "watchtower." 
But his manager is "cool" with him not coming in, Devon adds. "I'm sure at some point Google will send me emails about not badging in, but I won't even worry about it until I get a warning." And if they decide to punish him by letting him go, Devon says he's still resting easy because they'll give him a generous severance package. 
He acknowledges that his way of life would "100% not fly" at a start-up with fewer people to manage, and that he's not blind to the privilege of his circumstances. "I'm pretty lucky to be in the position I'm in," he says. "If I did get laid off, I'd still have enough runway for like a year's worth of rent, which is really enough for me to find something else." Not everyone has that, he notes, so he can hardly recommend his way of life. "You have to be sort of lucky," he says.
Source link