Market
Non-Trump Republican presidential candidates to try for 'breakout moment' in this week's debate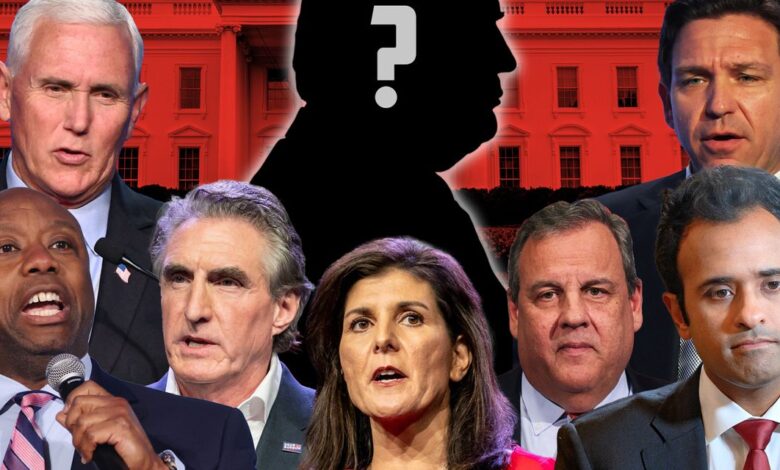 The first debate in the 2024 Republican presidential primary offers a chance for candidates to try to chip away at former President Donald Trump's big advantage in their race, even as the frontrunner himself looks poised to skip Wednesday night's clash.
One GOP strategist, Saul Anuzis, said he expects contenders will aim to not alienate the former president's base and become that voting bloc's second choice, perhaps by delivering a "one liner or two liner that will be their breakout opportunity."
"That will be the story, assuming Trump isn't there. How did they handle Trump, No. 1? And then did any of them have that breakout moment, No. 2?" said Anuzis, former chairman of the Michigan Republican Party.
Trump has grabbed the spotlight throughout August thanks to his widely followed indictments in Washington, D.C., and Georgia's Fulton County in election-interference cases tied to his efforts to overturn the 2020 presidential election. He has denied wrongdoing and argued the charges are politically motivated, as he did with his spring indictments in a hush-money case and a classified-documents case.
Many Republican voters have agreed with his take on his legal troubles and rallied around Trump in the past few months, leaving him with 54.7% support in primary polls, according to a RealClearPolitics moving average of surveys as of Friday. Florida Gov. Ron DeSantis is a distant second with 14.8% support, followed by entrepreneur Vivek Ramaswamy at 6.9%, former Vice President Mike Pence at 5.4% and former ambassador Nikki Haley at 3.6%, with other candidates polling under 3%.
Related: DeSantis cuts a third of his presidential campaign staff as he mounts urgent reset
And see: DeSantis is leading Trump in cash on hand, even as the former president dominates in polls
Trump's strong lead has sparked talk that the 2024 Republican primary is already over, but Anuzis said he thinks it's "not late in the game," given Iowa's first-in-the-nation caucuses are still months away, planned for Jan. 15. The strategist also said he thinks most of the GOP contenders "believe, as I think many people believe, that Trump ultimately will not survive the primary process, whether it's for legal reasons or something else."
"It's still early enough where anybody can shine, and this debate is really an opportunity for the second-tier candidates to show their stuff and see if anybody comes out in a way where people notice them," he said.
On the other hand, presidential-debates expert Mitchell McKinney said it's important to avoid "falling into the trap" of approaching the 2024 Republican debates in a traditional way, given the primary has a "very untraditional, unconventional frontrunner."
"It does not seem that this is a traditional cycle in a presidential primary. It seems like we're late in the game, trying to determine if it's a foregone conclusion that the Republicans have their nominee and therefore there's really no chance for any of these folks," said McKinney, a professor of political communication at the University of Akron and dean of the university's Buchtel College of Arts and Sciences.
But McKinney said he thinks there's a slight chance — "some glimmer" — that a contender will perform in a way to have many Republican voters say, "Hey, wait a minute. Maybe there is an alternative to Donald Trump." Betting markets tracked by RealClearPolitics give Trump a 60.7% chance of winning the GOP nomination.
Trump appears ready to steer clear of Wednesday's debate, which is slated to take place in Milwaukee and air at 9 p.m. Eastern on Fox News. He plans to stage counterprogramming by sitting at that time for an interview with former Fox host Tucker Carlson, according to a New York Times report on Friday that cited unnamed sources.
The former president told Newsmax earlier this summer: "When you're leading by 30, 40 or 50 points, what's the purpose of really doing it?" Trump skipped a debate in the 2016 GOP primary, and he objected to participating in a virtual debate at one point in the 2020 presidential race, leading to dueling town halls on one night.
"We've seen instances where Donald Trump makes the assessment that he's not willing to put himself in situations where he doesn't control or he can't call the shots. He will find ways to pull the attention and have the spotlight on him," McKinney said.
Another debates expert, Emory University's Ed Lee, said he thinks Fox's moderators, Bret Baier and Martha MacCallum, could decide to limit the number of questions that they pose about Trump if he's not on stage. Fox's parent company
FOXA,
+1.52%
and News Corp
NWS,
,
MarketWatch's parent, share common ownership.
"I think that the moderators will ask a question, maybe two, and I think that most of the candidates will deflect it in some eloquent manner — about how they are here to talk about their own record and how to move the country forward, and that they will allow Donald Trump to address his own particular issues," said Lee, who is senior director emeritus for Emory's debate program as well as senior director of inclusivity for the university's college of arts and sciences. He argued that it does a "disservice" to the debate format and the other GOP candidates to spend "a lot of time on a candidate who's not present."
The Republican contenders who have qualified for the debate are Trump, DeSantis, Ramaswamy, Pence and Haley, along with North Dakota Gov. Doug Burgum, former New Jersey Gov. Chris Christie and South Carolina Sen. Tim Scott. Former Texas Rep. Will Hurd, former Arkansas Gov. Asa Hutchinson and Miami Mayor Francis Suarez have come close to making the cut, but haven't done so as of Friday.
It's the inflation, stupid
Non-Trump candidates could end up finding traction with viewers by talking about inflation, according to Lee.
"If I were coaching these candidates, I would spend the vast majority of my time trying to get them to talk about inflation — to talk about the serious difficulties that people are having in order to pay for everyday items like groceries, to raise money for their mortgages," he told MarketWatch. He argued the presidential hopefuls should make the case that the "other candidates are either unserious because they are focusing on other things that have nothing to do with those basic pocketbook issues … or they have had an insufficient history of actually dealing with these issues."
Inflation remains the top concern for Republicans and Republican-leaning independents, with 77% saying it's a very big problem, according to a recent Pew Research Center survey. The latest reading for the consumer price index put the annual rate of inflation at 3.2%, up from 3% in the prior month but down from a 40-year high of 9.1% in mid-2022.
Republicans in Congress have blasted President Joe Biden over what they've dubbed "Bidenflation," while the Democratic incumbent and his cabinet officials have traveled around the U.S. talking up measures such as the Inflation Reduction Act. And Biden's re-election campaign plans to have a presence in Milwaukee on Wednesday to counter the GOP's rhetoric, according to an NBC News report.
U.S. stocks, as tracked by the S&P 500 index
SPX,
have fallen about 5% in August, hurt by factors such as Chinese economic weakness and signs of a strengthening U.S. economy, which raises the risk of more interest-rate hikes by the Federal Reserve. But the index is still up for the year by about 14%.
See: Will August stock-market stumble turn into a rout? Here's what to watch
And read: Biden official touts 'new era' for alliance with Japan and South Korea, but says it's 'not a NATO for the Pacific'
Source link