Tech
A Comprehensive Guide to Hire Ideal Developers for your projects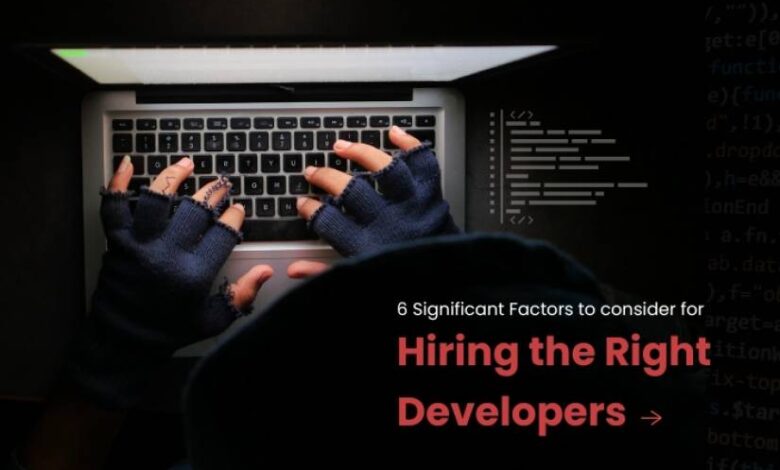 Today, running an IT firm is the most tricky task that requires continuous efforts to get global clients. Satisfying the client's needs and retaining them for the long run is way more complex. Moreover, with an expansion of your business, it becomes essential to hire talented and best resources.
Usually, the demand for developers is always at a high peak. And why not? After all, developers have technical skills that help build software and applications for clients' businesses. Although IT firms already have in-house resources, there have been times when a client wants to hire dedicated developers for their projects' specific requirements.
Therefore, they need to hire remote, in-house, or contract-based developers. Besides that, businesses outsource developers to create their websites or apps. So, in this post, you will get an overview of the developers, their types, factors, and technologies.
Who are Developers?
The developers are the persons who look after the whole procedure of creating either the software, applications, or websites. From determining the wireframes, design part, writing codes, managing programming, testing, and deployment, developers constantly work to accomplish each stage of the development process.
Generally, a developer can be denoted as a software developer, app developer, web developer, computer programmer, etc. One of the recognized job designations of developers is a software engineer.
However, the job role and knowledge of developers vary based on their specialization. There are usually three types of developers. They are as follows;
Software Developers- Software developers design and develop software products or computer programs that can be used on mobile devices and desktops. Nowadays, these developers work on building artificial intelligence software.
Mobile App Developers- They are responsible for building concept, wireframes and developing applications that allow users to access mobile devices. The mainstay mobile app development solutions are Android, iOS, and Flutter.
Web Developers- They ensure the delivery of effective technical solutions for writing programming languages, designing UI/UX, integrating content, and tackling functionality-related issues. Utilizing .NET and PHP solutions for web development is preferable.
Initially, you should have clarity on the project requirements; accordingly, you can decide on the right developer. This decision leads the business to attain the benefits such as;
Boosts brand visibility
Increases customer engagement
Build a unique digital presence
Improves ROI in the long run
So, you can enjoy the benefits optimally only if you have hired the right people based on your favorable factors. Let's dig into them.
Which are the Prominent factors you should consider while hiring developers?
Hiring dedicated developers for your project is not at all a cakewalk task. You have to scrutinize each and every aspect thoroughly. Before finalizing on developers, remember that you have to work and build long relationships with them. So, it's necessary to pick the best and right developers that serve your needs.
Here is the list of factors you should consider while hiring developers for your dream project.
The primary task of developers is to build robust applications and websites. It requires technical skills such as coding, familiarity with programming languages, etc. It is essential to consider the knowledge of the developers.
In any app development process, it goes through stages from ideation to design, development, and deployment before reaching the final consumer.
Developers are the main pillars who oversee the whole procedure and ensure the accuracy of each step. Typically, the following skills should be looked for in the right developer;
Proficiency in programming languages
Database management
Testing process
Debugging
Knowledge of data structures, etc.
Therefore, you should prioritize the technical expertise of the developers and select them accordingly. It makes you shortlist the right developer quickly.
Pro tip: Prefer looking for certified developers, e.g., If you are looking for Android developers, choose the Android Certified Application developer.
Apart from having relevant knowledge, having enough experience in delivering projects is also important. Basically, the experience factor is determined by 3 major things;
Number of Projects delivered
Client satisfaction rate
Technology worked with
All of these help in making the right choice for the developer. You should make a questionnaire for the candidates while interviewing and mention their experience-related questions.
Developers with extensive experience delivering timeline projects for different industries can make your project successful. So, you can select the ideal one based on their previous work experience or assign them practical tasks.
Even after having hands-on experience as a developer, building an impressive and appealing portfolio is necessary. The portfolio reflects your expertise and professionalism. It should consist of all the skills and knowledge you carry.
The portfolio is the single solution that displays your background, experience level, and projects delivered. You can get a brief idea about the candidate. Moreover, you can evaluate their skills and your project requirements as well.
Now comes the most significant factor, which is price. Deciding on the price of the developers takes many considerations. You need the resource that fits your budget and meets your requirements too. So, you should have clarity on the budget when hiring developers.
Usually, the developers' price depends upon their work experience and skills. However, you can negotiate the prices by showcasing your project needs and their knowledge of the technology.
So, determining the right developer requires you to allocate and finalize the budget well in advance. It reduces the hassle in the hiring process and shortlists the candidates based on the predetermined price.
Meeting the client's deadline is also one factor affecting the selection procedure. The portfolio helps you examine how the developer has completed their previous projects, the actual turnaround time per project, etc.
As mentioned earlier, you can assign them a project and ask them to finish it in a determined time. This way, you will get an overview of time consumption per project. Hence, you should make a proper analysis of the turnaround time for your project and decide accordingly. It eliminates troubles in the future with process and deployment time.
After the project's successful completion, the developer's job won't end there. Maintaining the website or app with new features, advanced integrations, and the latest versions is equally essential. Choosing the developer that ensures to provide support and troubleshoot errors in the near future is required.
You should portray your demands clearly in front of the developer about the post-deployment support service. So, you can remain rest assured about the website's performance.
Which technologies will be in high demand in 2023?
Since the factors impact the decision harder, selecting the right technology also makes a significant difference. Your final outcome may bring out to be higher than what you have expected. Selecting the developers specialized in booking technology these days gives you a competitive edge in the industry.
Flutter: With best-in-class software solutions, you can build cross-platform applications with a single code base. It is the best pick for mobile app development projects. So, you can hire Flutter developers for your project.
Full-Stack: Full-stack developers have proficiency in both backend and front-end technologies. It makes them deliver a full-proof website that eliminates the drawbacks of software.
Machine Learning: Today, machine learning is flourishing in the market and is an AI solution. It requires extensive technical expertise to build applications for machine learning. So, if you are looking for developers to build software that helps computers learn, then finalize on experienced software developers.
The Bottom-line
In conclusion, the demand for skilled developers has also been rising with increasing technology trends. You should consider that developers should encompass the skill set based on your(client's) projects. The above-listed solution assists you in onboarding the ideal candidate.
Apart from that, offering your clients a choice of technologies is advisable. Modern software solutions and flexible solutions take less time and have a higher success rate. Therefore, developers with versatile knowledge and a better understanding of different technologies are beneficial.
So, what are you waiting for? Start your market research, evaluate developers' capabilities, and shake hands!
Featured Image Credit: Provided by the Author; Thank you!
Source link