Tech
IoT Serving is Up Delicious Change: The Food Delivery Landscape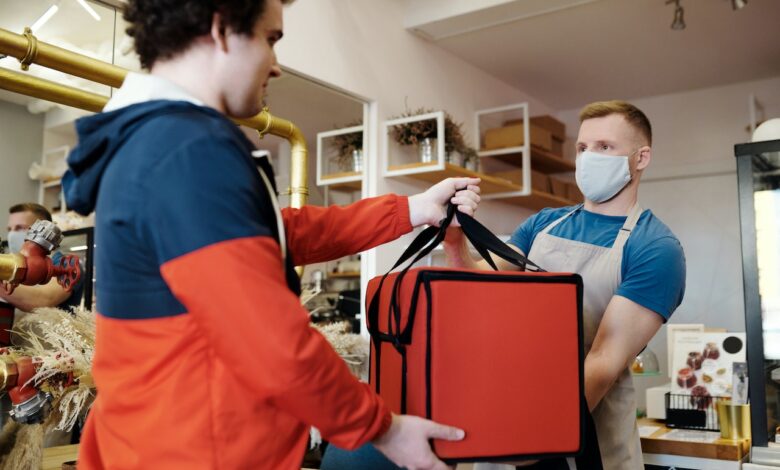 "IoT's impact on e-commerce is worth delving into. The exploration of modern-age food delivery space, a thriving online retail and e-commerce domain, cannot be neglected, likewise. It has brought about a sea change in ordering and delivery experiences. Given the food delivery solutions' robust and widespread connectedness across a gamut of gadgets and devices, it is further predicted to radically transform the entire food delivery industry."
IoT and food delivery services- Representing a beautiful blend
Modern-day technology is redefining businesses and processes we deal with and talk about in our daily lives. Visualize somebody telling you a decade ago that availing food deliveries or starting a food business would be plain sailing. Your initial response would have been a scoff, expressing disagreement and surrealism. Reason- IoT and e-commerce were poles apart, having a sort of nothingness-to-do-with element.
Fast forward ten years to rampant advancements in technology, the Internet of Things (IoT) has emerged as a transformative force in various domains and numerous industries viz a viz e-commerce, real estate, retail, health, inventory management, etc., and the food delivery sector is undoubtedly no exception. IoT is the massive world of interconnected physical devices, such as vehicles, smartphones, gadgets, and appliances, exchanging data seamlessly with the internet. It is something that is powerfully redefining how business ought to be done in the contemporary era. Hyperlocal e-commerce delivery solutions that assist many e-commerce businesses in today's age through lightning-quick and efficient deliveries leave a lot for futuristic food delivery businesses and twenty-first culinary entrepreneurs to benefit from.
Internet of Things (IoT) and E-commerce- Exploring the beautiful juxtaposition
With AI and IoT leaving subpar intelligence and practices behind and taking over every possible aspect of a business, the world of food delivery appears highly promising. IoT is shaping businesses and society as much as it impacts the food delivery space.
IoT is expected to play a pivotal role as our world becomes increasingly interconnected. It plays a significant role in streamlining operations, increasing efficiency, and enhancing the overall customer experience. With IoT at the helm of some culinary businesses, offering food ordering and delivery solutions has become a treat.
The numerous ways in which IoT is revolutionizing food delivery services and redefining customer experiences and expectations are really a treat for the industry, tech enthusiasts, and all the stakeholders so concerned.
Innovative Ordering Solutions
If you haven't heard of it, will you doubt Siri ordering food for your family on your behalf while you are driving? With Apple tremendously integrating IoT into its devices, Siri can order your choice of meals without you even touching the device. Yes! Hands-free ordering is no longer a thing of the future. Instead, the future can be your food getting picked up from the platter, onto your dinner plate, lifted to the angle of your mouth while you open it, and there it goes. Yummy! Are we having some IoT-enabled and sensor-embedded platters, plates, and spoons in the future? That's an improbable interrogation we all can think of, or maybe who knows, highly probable.
Integrating IoT devices into the order placement process has led to increased innovation and convenience for customers. With IoT-enabled appliances like voice assistants and smart fridges, users can place orders through voice commands or by simply scanning barcodes. This seamless integration into a user's daily routine simplifies the ordering process for businesses and encourages brand loyalty and frequent engagement with the service.
There is little room for doubt that online and connected ordering systems make things easy for customers and restaurants. Popular brands such as Pizza Hut and McDonald's leverage IoT and allow its customers to order, modify, and pay for their orders without relying on staff members.
Tracking and Fleet Management
Did you ever think there could be an app that can tell you about the congestion in traffic, say 5-10 kilometers ahead? A decade back, this would have sounded surreal, but this notion has convincingly met reality. I intend the global positioning system that we commonly know as GPS.
Knowing what lies ahead in real time is worth experiencing and makes drivers efficient. Through this, delivery drivers are in consummate control of their routes. They know which ones to avoid and which to go from.
IoT, without a doubt, helps streamline delivery operations and improve logistical efficiency to a tremendous level. Culinary businesses and foodpreneurs can monitor just about everything by employing GPS and IoT-enabled sensors. They can command their fleet of food deliveries in real-time, optimizing routes, avoiding heavy traffic areas, and predicting accurate delivery times. This comprehensive tracking system improves the services' reliability, adds customer transparency, and minimizes food handling errors.
Temperature Monitoring and Food Safety
What if your sensor-possessed dining space starts beeping to tell you that the food you left on the dining table a few hours ago is about to get putrid?
Yes! IoT devices of all these years of the twenty-first century are smart and prompt to unfathomable extents. IoT-enabled devices have inbuilt sensors that track the location and the temperature, humidity, and other environmental factors to ensure that easily perishable items are stored under temperate conditions.
With that token of understanding, IoT technology can help monitor and control food temperature during transit. This ensures that the delivered products stay fresh and safe for consumption. IoT-enabled temperature sensors can be integrated within delivery vehicles and continuously send data regarding the temperature of food items, alerting drivers and restaurant operators about any discrepancies. This real-time data ensures better temperature control and compliance with food safety regulations, ultimately leading to greater customer satisfaction.
Personalization and Customer Experience
IoT devices can gather valuable data about customer preferences, order patterns, and feedback. This data can be tracked and analyzed by food delivery services to improve customer experiences continually. Using such insights, companies can personalize food recommendations, offer targeted deals or promotions, and predict customer needs based on past behavior.
For instance, customers may buy pizzas on Wednesdays when several pizza chains run a 'buy one get one' offer. This helps food delivery chains personalize custom-made experiences and choices for them.
This high level of personalization allows food delivery services to provide tailored experiences to their users. This leads them to increased customer satisfaction and, potentially, more orders for the business.
Smart Kitchens and Inventory Management
What if you are told that IoT systems help reduce food wastage? You can check out the inventory available in the store and its expiry dates through sensor-embedded devices.
Rightly so! IoT has the potential to revolutionize the kitchen operations in restaurants. By reaching out for IoT-enabled appliances viz smart ovens & walk-in freezers, and refrigerators, modern-day chefs are in perfect control. They can closely monitor cooking times and temperatures, ensuring optimal food quality. Additionally, technologically integrated kitchen devices can gather data about ingredient usage, enabling restaurants and food businesses to manage their inventory much more efficiently, reducing food wastage and minimizing overall costs.
How has Lumit integrated IoT into its delivery services?
Lumit has integrated IoT so well that it has resulted in overall digitalization and connectivity of their business. Lumit is not about the delivery service itself; it's about digitalization. The company wants to be 100% digital. They don't see the food, they don't touch the food – they simply create a digital service that supports their restaurants.
"We're good at digitalizing those companies that are 'un-digitalizable, says Daniel Lindau. Without IoT, Lumit wouldn't be able to function. The Lumit Terminal is provided to all of their customers. Inside, there is a Tele2 IoT connection and pre-installed SIM. When the restaurants receive the terminal, they simply press 'power on.' This connects to Tele2 IoT connectivity, installs everything, and starts working, no matter where they are."
Wrapping Up
Machine-to-machine and growing IoT interactions lead to new customer hopes around the food delivery sector. This forces restaurants, culinary entrepreneurs, and food delivery solution platforms to replan and know how to do more business and generate more leads in less time.
The burgeoning influence of IoT in food delivery services promises to change the industry in several ways. From personalized user experiences and innovative ordering solutions to food safety and streamlined operations, IoT is reshaping the delivery landscape. This reshaping is setting a new benchmark for convenience and customer satisfaction in the present times.
As IoT technology continues to advance and take over the culinary industry by storm, businesses in the food delivery sector must choose ways to invest and adapt to stay ahead. This will better address the growing demands and expectations of today's digitally savvy and ever-ravenous consumers.
Current industry observations and hunch have it that IoT-driven food deliveries, say a decade later, will be very different from the ones in the present times. Ambitious food startups, passionate foodpreneurs, and established culinary businesses that see themselves thriving will be the ones adapting to the highly evolving and vast world of IoT.
Featured Image Credit: Photo by Norma Mortenson; Pexels; Thank you!
Source link