Tech
How can SEO be used to promote IoT devices?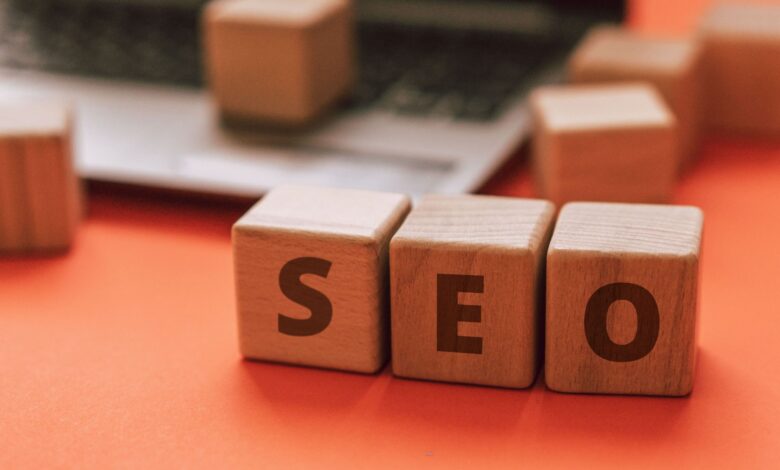 The rapid adoption of Internet-of-Things (IoT) devices globally and across every sector is changing how we search and share information. IoT devices go beyond just personal technology like smartphones and computers. They include smart speakers, inventory trackers, and even refrigerators equipped with modern software, sensors, and processing capabilities that connect and exchange data.
In essence, these IoT devices form an intricate network of connected objects. They constantly share, collect, and analyze data while simultaneously performing the task at hand.
With the rise of new search queries and results, SEO is pivotal for IoT businesses. They seek an edge in an industry where users don't just search on phones but also on IoT devices
The Intersection of IoT and SEO
The ultimate goal of IoT devices is to aid in making the best business decisions. They offer insights into users' behaviors. In fact, By 2025, it is estimated the adoption of IoT devices will reach about 30.9 million devices. The trend towards utilizing IoT devices means these devices are becoming more advanced and dynamic.
Users will keep searching for products and services online, and businesses will persist in finding cost-effective ways to assist them. But how do these IoT devices attract new users?
SEO is a cost-effective strategy to promote top IoT devices to end users. Like IoT devices, we use search engines to share, gather information, and guide our choices.
The only difference today, with the help of IoT devices, is the entry point to access information.
While the idea of a massive network encapsulating billions of devices might be daunting, these devices provide SEO specialists with valuable information that informs successful SEO strategies. However, the rise of IoT devices has changed how and where we find informative content.
What is SEO for IoT Devices?
Not only do IoT and SEO intersect, but they are synergetic because they both work to understand and meet customers at the most critical moments using valuable data. In a nutshell, SEO for IoT devices includes utilizing search engines like Google to increase your device's visibility via your website, user reviews, and collaborating with other IoT experts.
Simply put, IoT and SEO intersect regarding the data they depend on to tap their target audience. While IoT advancements significantly change how SEO specialists embrace data, the IoT and SEO industries are perfect for building digital twins.
It is no surprise that in today's data-driven world, IoT is the primary source of collecting big data. At the same time, SEO is responsible for generating analytics-based solutions that are used in making more informed decisions.
SEO best practices have evolved to adapt to IoT devices like smartwatches, voice assistants, intelligent cars, and connected homes. For example, We have to consider semantic queries and keep our fingers on the pulse of the IoT landscape.
As users adopt more IoT devices in their lives, they will clearly expect their devices to have internet connection capabilities and the ability to connect with other devices. The magic in these connections happens when we reveal the value of IoT products through SEO.
With IoT devices providing new ways for people to access the internet, these change how people search for information and products. For instance, SEO strategies have had to move away from typical exact keyword searches in Google to consider conversational voice-based searches queried via smart speakers and virtual assistants like Apple's Siri.
Let's look at one of the world's most sold IoT devices, the Google Home smart speaker, with 52 million units sold so far since launching in 2016. With its simple design and emphasis on voice commands, SEO specialists have had to optimize their content to be the first (and only) information Google Home's system deems credible enough to share with its end user.
The Google Home has an array of smart features, but for the sake of the role of SEO, we will focus on seeking answers via Google's search engine.
As you can see, compared to its Apple competitor, the Google Home device is rated higher due to user ratings and underlying SEO techniques, which we will discuss further in this blog.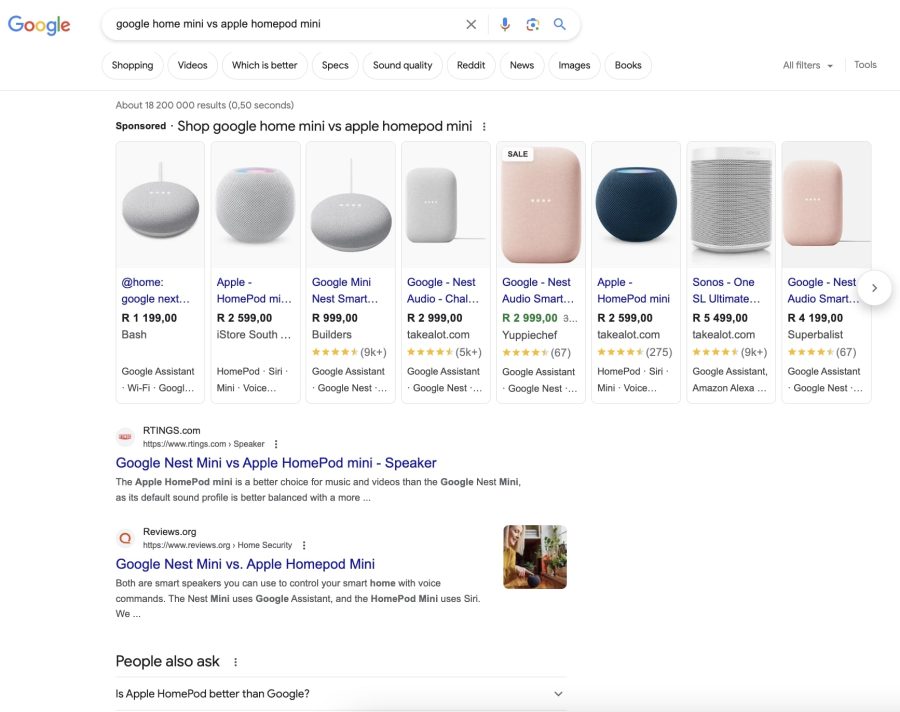 Google Home uses voice commands, so optimizing your content for long-tail keywords is vital. This makes it easier for smart devices to process and analyze. As IoT devices conduct searches and communicate with others, Google uses this data to gauge your website's expertise and credibility.
IoT devices aim to deliver benefits efficiently. By integrating SEO in promoting your product, more visitors will trust your innovative IoT solutions. These solutions offer advanced analytics and data-driven decision-making tools.
The Benefits Of SEO For IoT Device Providers
This year, the need for businesses using SEO rose to an all-time high as consumers consistently turn to search engines. With this being said, SEO remains one of the most viable and cost-effective ways to reach customers while understanding their behaviors in real-time. Organic search remains the primary source of website traffic, with Google leading with 92.02% of all searches online.

Utilizing SEO helps promote your IoT product and ensures users are eventually converting.
Here are some of the benefits of using SEO for IoT:
Generates Leads Cost-Effectively: Lead generation is one of the most beneficial elements of SEO. It cultivates interest in your business and products,  transforming attracted prospects into loyal customers. SEO helps you understand how your site can rank higher in Google's SERPs. Therefore, please both search engines and prospective customers visiting your website.
Increases Brand Awareness: SEO helps Increase awareness by generating organic traffic to your website, especially If your website can earn and maintain a spot on the coveted first page of Google. Increasing online visibility sounds good, but it's only effective if random website visitors become actual customers.
Gets You Ahead of the Competition: SEO also helps your site stand out from online competitors who want to attract the same high-quality prospective customers. The best way to rank well and get discovered by your target audience is to use SEO. It helps you outperform competitors, get discovered by customers, and boost lead generation.
Builds Trust and Increases Your Credibility: A high-ranking site in Google's SERP is considered the highest quality with the most trustworthy product because it is built on a foundation of credibility. With SEO, you rank higher in SERP than competitors. This makes you the most trusted source of information in your niche.
Optimizes Your Website for Users on New IoT Devices: SEO reveals your customer's search behavior, making it easier to hear and anticipate customer needs via their IoT devices. SEO reveals the devices your customers are using. This means you can adapt your website to fit these new points of entry.
Why is SEO important in the IoT industry?
The massive adoption of IoT devices means people are changing how they search. SEO enables businesses to keep up with how people use these devices and how their search habits shift.
Currently, the market size of the IoT industry is estimated to be over $600 billion, with many experts believing it will grow exponentially due to the increase in the adoption of more IoT devices. According to Statista, the worldwide Internet of Things (IoT) sector will be valued at over $1 trillion by 2030.
In this trillion-dollar market, SEO's role is to monitor search behaviors and adapt content focus. It's all about understanding how searches are conducted and engaging more people through varying methods.
SEO Strategies to Promote IoT Devices
Prioritize Voice Search Optimization
One-third of US consumers own a smart speaker. This isn't a surprise as voice-powered tech saves time and helps productivity, therefore saving money. As of 2023, there are at least 4.2 billion voice assistants in use.
Popular smart devices, like Amazon's Alexa and Google Home, answer voice queries. This means their search engines prioritize voice, and SEO should follow suit.
Voice-powered IoT devices can enhance customer service, ensure consistent experiences, and boost efficiency. Voice searches often reflect natural language with longer sentences. This emphasizes the importance of long-tail keywords.
Optimizing your site for voice search helps devices like Alexa read your content to users. At the same time, IoT devices analyze this content. It's key to identify long-tail keywords from user data for ranking. This maintains a balance between natural voice search and text search.
The challenge is balancing content for traditional typed searches with the longer, conversational phrases often used in voice search.
Semantic SEO For Complex Searches
Many of these IoT devices are smart enough to understand the nuance of language, like conversational words users would speak rather than type out. In SEO, this is termed semantic search, focusing on intent and context. Therefore, it's essential to optimize your content for Google to identify the context.
Consider the search term "Polo". This could point to the equestrian sport, a German car, or a clothing brand.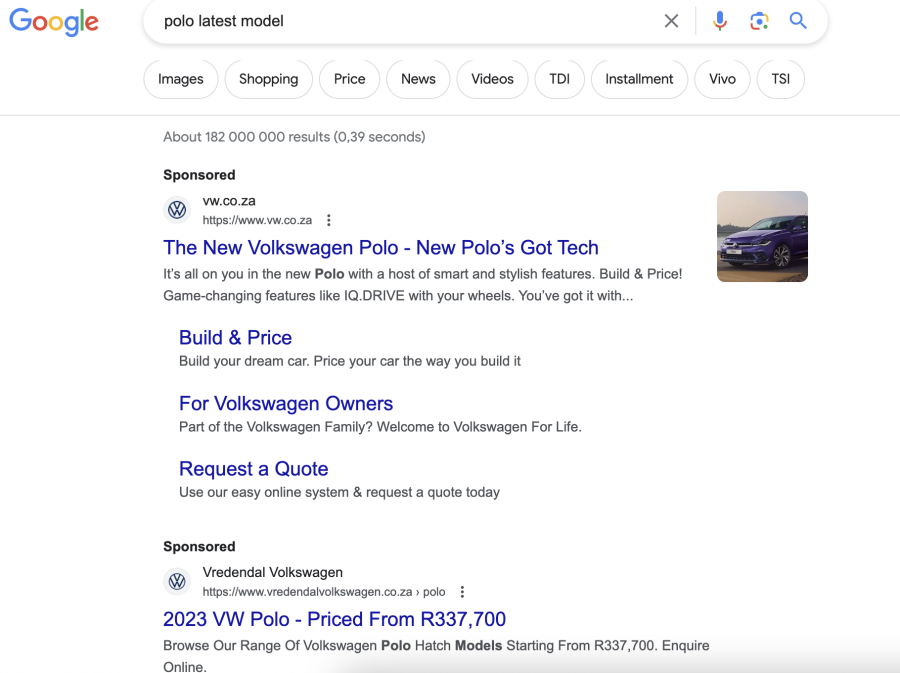 Integrate Interactive Search Content For AR/VR Devices
The adoption of Augmented Reality (AR) and Virtual Reality (VR) devices is continuously growing, with Statista predicting a $297 billion value by 2024.
In 2023 alone, Meta unveiled the Meta Quest 3, their next virtual reality headset. Similarly, Apple introduced the Vision Pro AR headset.
As SEO adapts to trends, it's vital to integrate interactive search content for such devices to rank higher in SERPs. Search engines will probably consider AR devices during crawling and indexing. They'll seek content bridging organic search with AR/VR search.
Utilizing Structured Data For IoT Specifications
In SEO, utilizing structured data like metadata is vital for Google to understand the content on your pages and products. When you tell Google what is on your webpage in a structured way, it is easy for the search engine to interpret the content. Structured data also give visual cues for specifications of IoT products like star ratings and product categories.
If you search for smartwatches based on ratings and reviews, structured data will show the product's specifications and the site's rating system.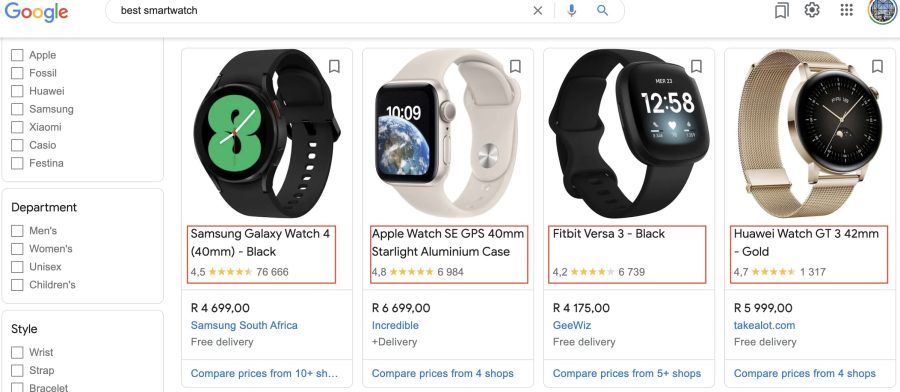 Leverage Online Content To Build Industry Authority And Visibility
Encourage Customers To Share Experiences With User-Generated Content
Data shows that 66% of people watch videos to learn about a brand or a product. But when customers themselves explain, review, and test the product in the video, it adds another layer. This is User-Generated Content (UGC), where videos can better explain what written details cannot.
Encouraging users to share their IoT product experiences through UGC can boost trust and revenue. Customers value seeing others discuss a device's use, price, and other good and bad aspects of the product.
Many Gen Z customers today use video-sharing platforms like YouTube and TikTok as alternative search engines to Google. Take the Philips Smart Lamp, for example, where over 36.9 million views have been generated by UGC content in TikTok.
On TikTok, not only does a large amount of UGC content for Philips Smart Lamp show us reviews, but Phillips' TikTok pages and other products rank based on customer keywords.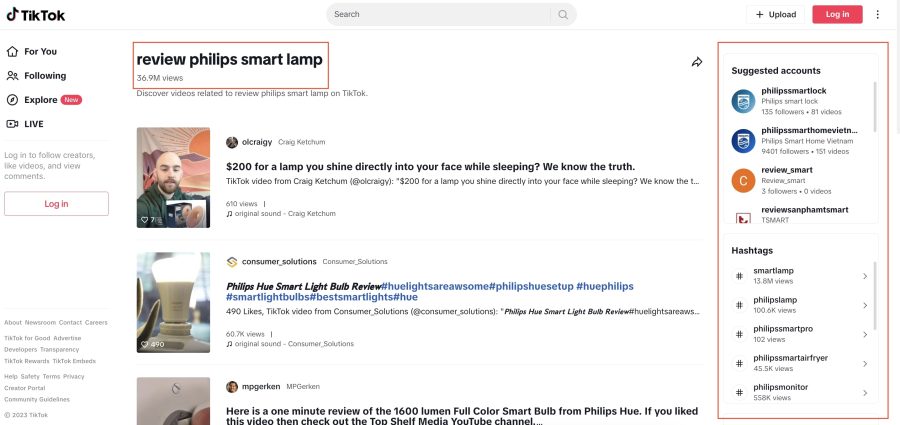 Collaborate With IoT Experts To Promote Product Credibility
Collaborating with IoT experts to promote your products ensures they provide honest, credible reviews to their trusted audience. Due to their credibility, these experts already have an audience seeking information through their content.
Let's look at tech YouTube creator and reviewer, Alex Teo, who is known for reviewing the latest automated tech products and helping consumers make informed device buying decisions.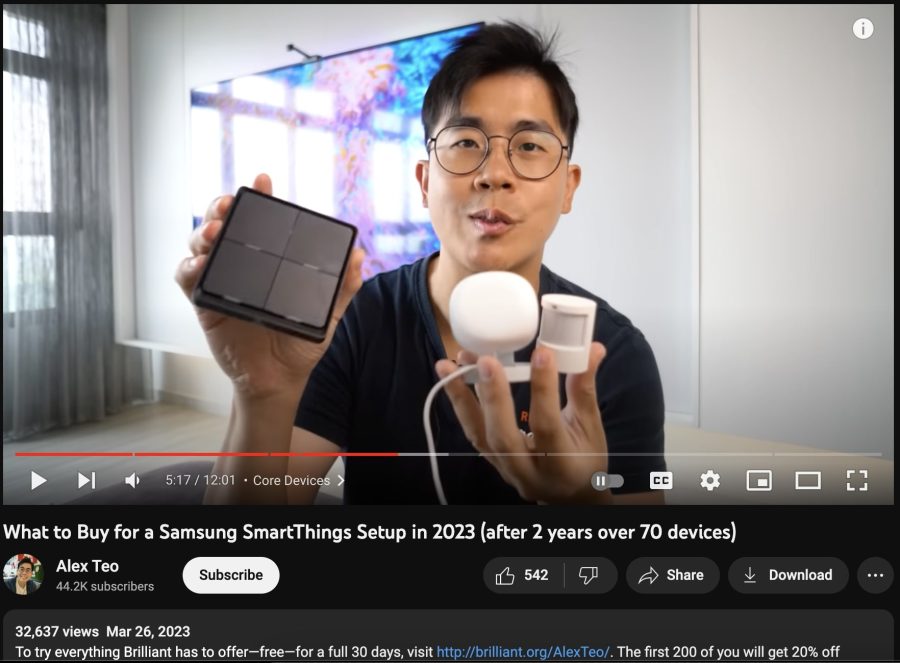 His review of the best collection of smart home products is an intelligent collaboration strategy to promote your product. Since Teo is a more minor creator, consumers are likelier to see his reviews as more authentic.
Over 32,000 people watched this review, potentially as a step towards making a purchasing decision. Keeping an eye on IoT-based search media will help you keep track of how and where your target customers are finding new IoT devices.
Participate In IoT Events To Build Industry Authority Offline And Online
For a long time, SEO has focused on data from online tools (like Ahrefs keyword planner and SEMRush). However, turning to real-world events and offline information will help build visibility among other IoT businesses and customers.
Offline IoT events are essential for leveraging real-life data points to build credibility among customers and keep an eye on competitors.
There are many IoT events, like the Global IoT Tech Expo and Intelligence Cities US, where industry leaders collaborate and learn more from leaders in IoT-adjacent industries like cars, cloud technology, and smart city planners.
Hyper-Personalized Content Boosts User Engagement
Experiencing more focus on personalization from an online business has become standard for today's consumer. Furthermore, this is expected to improve through IoT as the devices collect more user data.
Let's look at one of the more personal businesses utilizing IoT functions: Healthcare. HERO, a smart medication dispenser is used by many elderly patients who rely on home treatments and pill intake. The HERO connects with your phone and smartwatch via WiFi to alert family/caregivers to monitor the pill intake.
Of course, with personalization comes privacy concerns. The HERO dispenser allows users to remove certain information they once shared, like names and passwords, email, contact info, or health conditions.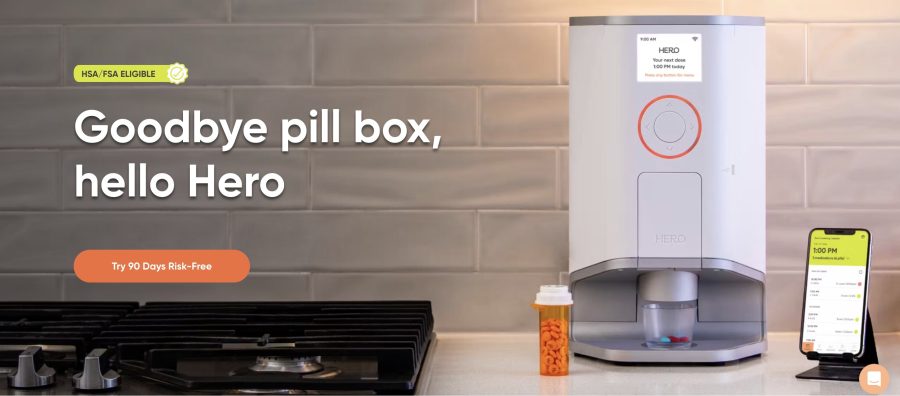 The pinnacle of personalization in the IoT journey is when we gain valuable insights through the devices. This allows you to manage the outcomes for future personalization, making it easier to hear and understand your customers.
This trend of hyper-personalized content will increase with more IoT devices becoming interconnected with more data about customers' search histories and behaviors.
Build Trust Through Blockchain Technology And Transparency
Privacy and cybersecurity are among the main concerns with connecting all of our devices to collect data. Many businesses leverage the information derived from smart devices to promote products strategically. Conversely, others may use this access too much, overwhelm the customer, or raise privacy concerns.
However, integrating blockchain in IoT devices improves security because of its decentralized data storage and sharing. The global blockchain IoT market size was estimated at $351.9 million in 2022. Similarly, showing transparency in the type of data you are storing and using and why you are using it empowers customers to share their information more wisely.
But how do security and trust influence your SEO content?
Google's algorithm rewards site content consumers trust, usually through proven results and transparency. So, blockchain is worthy of consideration. Every data entry in blockchain technology is visible and verifiable.
This transparency influences SEO by building credibility and enhancing a business's online reputation. It positively impacts rankings in Google's SERP (Search Engine Results Page).
This transparency is particularly important for IoT devices because users need to trust the device with which they share information. Relaxed security or not using blockchain can result in your website losing priority in IoT device searches.
The Future Of SEO In The IoT Industry
For now, Google remains the most extensive website traffic tool, as Google Analytics is used by 85.3% of all websites. The future of SEO in the IoT industry points to a shifting focus on voice search and keeping abreast of IoT developments and trends.
Another rapidly growing trend is the adoption of Artificial Intelligence (AI). SEO experts may turn to AI to collect and analyze information from IoT devices faster than before and use AI to improve their content to ensure it ranks higher in search engines. But, Google does penalize content that it perceives as AI-generated spam.
Additionally, with more users turning to their phones over desktop searches, Google has had to move to mobile-first indexing, which favors content optimized for mobile search. For this, Google recommends aligning all content and metadata is the same for desktop and mobile sites.
The rise of IoT devices means SEO specialists are constantly 'future-proofing' their strategies to optimize for more in-depth voice queries automated sensors, and have strong data analysis tools. SEO specialists are working to address future search queries and optimize content to meet the changing needs of target users.
Conclusion
With the trajectory of the IoT industry, businesses keen on implementing SEO will see a significant boost in organic traffic. With a little patience and consistency, the return on investment in an SEO strategy will be clear in time.
The IoT and SEO industries constantly keep up with algorithms, software updates, and technological advancements. These aspects can shift the number of visitors to their sites and engage with the sales process. But one thing is for sure: IoT opens the door to new SEO strategies, while SEO paves the way for greater success.
Inner Image Credit: Provided by the Author; Thank you!
Featured Image Credit: Provided by the Author; Thank you!
Source link