Tech
Strengthening B2B Collaboration – Essential Role of Federated Identity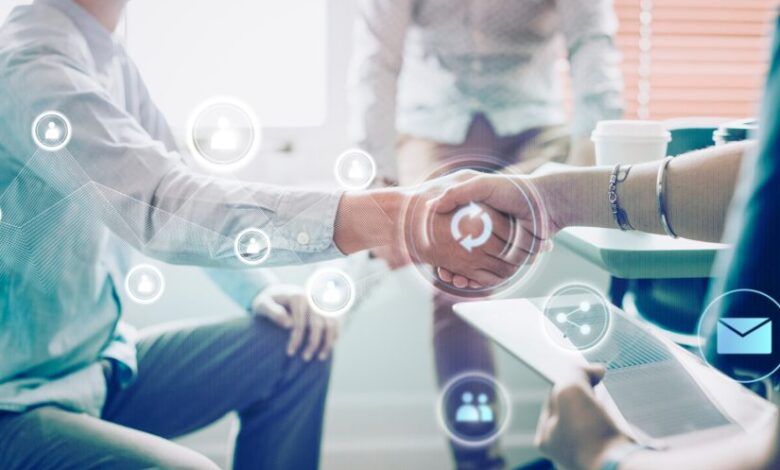 While businesses embark on a digital transformation journey, they no longer operate in isolation. Instead, they thrive on success by leveraging the true potential of partnerships, networks, and collaborations.
Regarding B2B success, enterprises can't ignore the true potential of collaboration and growth since every partnership, whether for services or products, adds to the seamless integration of features and user experiences that aren't everyone's specialty.
In a nutshell, B2B collaboration for diverse aspects of security and user experience is swiftly becoming the need of the hour as more and more customers demand seamless yet secure experiences.
However, the success of these modern B2B collaborations undoubtedly hinges on two critical factors- secure partner access and effective partnership.
And here's the crucial role of federated identity comes into play!
Let's uncover the aspects of federated identity and learn how it's shaping the future of effective B2B collaboration in the modern digital world.
The Changing Face of B2B Collaboration
B2B collaborations have come a long way from conventional partnerships to the hyper-connected digital world, often spanning geographical boundaries and encompassing diverse technologies.
Hence, this dynamic digital environment demands secure and efficient collaboration since greater connectivity increases the risk of cybersecurity threats and data breaches. Therefore, striking a perfect balance between openness and security must be a top priority for businesses engaged in B2B collaboration.
The Era of Interconnected Businesses
While every enterprise thinks about digitally transforming itself, it seeks multiple collaborations to develop integrated solutions that can address different challenges, offer seamless user experiences, and ensure robust security.
And for this hybridization to happen, business partners should be able to securely access sensitive information relevant to their domain without any hurdles.
Hence, the confidentiality and security of the data must be maintained through a robust access control mechanism. And to facilitate this, the crucial role of federated identity management solutions comes into play.
With federated identity management, enterprises can build a solid foundation of SAML standards that helps establish secure access between multiple platforms of different collaborated enterprises.
The Role of Federated Identity
With federated identity management, businesses can gain the potential to extend their identity and access management capabilities beyond their own boundaries.
This means they can securely share user identities and credentials across various partner organizations without requiring manual processes or duplicate storage.
Hence, this approach streamlines the onboarding and offboarding process of partners and eventually ensures that only authorized individuals gain access to sensitive data and information.
Let's explore the unlimited business possibilities while leveraging the true potential of federated identity management.
#1. Robust Security
Security is the most important aspect of successful business collaboration in the ever-expanding modern digital world.
With a federated identity system in place, enterprises can implement a robust authentication mechanism, including multi-factor authentication, machine-to-machine authentication, etc., for all partner users.
This ensures multiple layers of authentication for safeguarding sensitive customer information and business data while collaborated parties are sharing it.
Apart from this, federated identity management allows centralized monitoring and auditing of various partner activities, which facilitates rapid threat detection and response.
#2. Effective Collaboration
Effective collaboration in the B2B landscape relies on seamless access to various shared resources, data, and applications. And federated identity management simplifies the entire process, providing partners with SSO capabilities.
This means that users authorized to access certain information or applications can access multiple systems and apps with a single set of credentials, thus reducing the friction of reentering passwords again and again for multiple platforms.
While most business collaborations fail due to poor access management, federated identity management is helping businesses deliver seamless and secure experiences across multiple platforms with streamlined access management.
This is undoubtedly why most enterprises are now inching toward adopting federated identity management to enhance productivity and user satisfaction among various partners.
#3. Role-Based Access Control
Federated identity can be fine-tuned to offer partners the right level of access based on their particular roles and responsibilities. This granular control assures that sensitive information is only accessible and available to those with the right to access it.
Organizations can maintain trust and build lasting relationships with their customers and partners by ensuring that resources and sensitive information can only be accessed by the ones who genuinely need it.
Enterprises can also enable access control within their organization to offer certain privileges to their employees in the higher hierarchy, thus enabling data privacy and confidentiality within their organization.
#4. Scalability and Efficiency
With federated identity, businesses can handle scalability in the B2B business landscape. As the business grows and forms new partnerships, the federated systems can easily accommodate new organizations and users without compromising on overall user experience and security.
This agility allows rapid expansion and scaling of collaborative efforts, offering a competitive edge in today's dynamic business markets.
The modern cutting-edge solutions can handle multiple partners, and millions of users can leverage seamless authentication and data access without worrying about their overall security and privacy. Hence, most renowned brands have already been leveraging the true potential of federated identity systems for years.
#5. Streamlined Partner Onboarding
Apart from the security, privacy, and scalability capabilities, federated identity simplifies partner onboarding. This means partners can leverage their existing identity systems to onboard, reducing the time and effort required for setup.
When business partners collaborate, the only thing that matters is security coupled with robust security. However, the contemporary or legacy systems weren't able to deliver a harmony of user experience and security.
In the case of federated identity management, enterprises can be assured that they can onboard as many partners and users as they wish. All this can be processed seamlessly without worrying about security, privacy, and overall user experience.
#6. Compliance and Auditing
While businesses put their best foot forward towards collaborating for overall growth, compliance with industry standards/regulations and data protection standards becomes non-negotiable.
Enterprises must understand that they must maintain compliance with all the global regulations, including the GDPR and CCPA if they're serving customers across different countries and states.
And here's where the essential role of federated identity management systems comes to the rescue. With federated identity, enterprises can adhere to various data privacy and security compliances. This ensures robust security as well as privacy for both customers and business partners since every aspect of data sharing is reinvented by precisely following the data security and privacy best practices.
Also, federated systems allow easy auditing for enterprises, enabling streamlined operations and processes.
#7. Cost Savings
Cost saving is undoubtedly a significant advantage of implementing federated identity management in B2B collaboration.
With federated identity management, organizations need to refrain from investing in managing multiple user identities or building their own single sign-on (SSO) solutions. This helps them in reducing their costs of development.
Apart from this, federated identity systems also allow collaborated partners to leverage their existing authentication infrastructure, saving time, resources, and costs, making federated identity a smart investment for collaborated businesses in the long run.
Future-Proofing B2B Collaboration
While every B2B business thinks about digital transformation through effective collaboration, federated identity is undoubtedly an overlooked yet essential aspect.
Whether it's about managing a business's security, privacy, or scalability, federated identity management covers all aspects of seamless yet secure access controls.
Hence, if a business is thinking of navigating its digital transformation journey, it can't ignore the true potential of federated identity management to foster secure, effective, and future-proofed B2B collaboration.
The aforementioned aspects portray the endless possibilities and business advantages of leveraging federated identity management solution.
Source link