History
'Hungry' For Preservation? Comfort Kitchen Serves Up Soul Food and Saved Architecture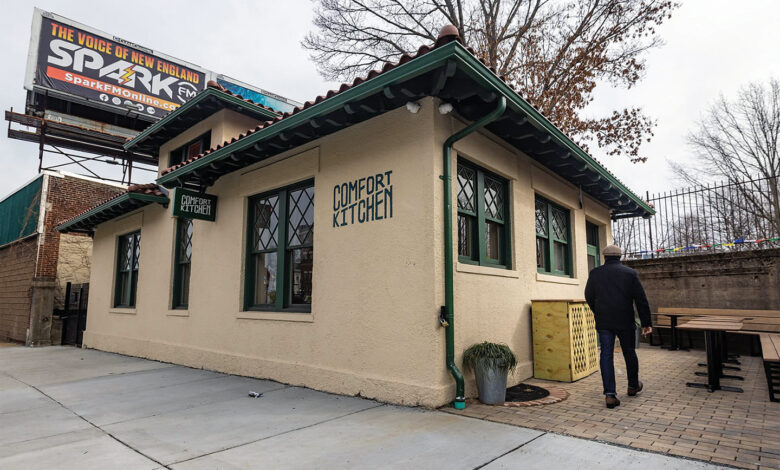 Historic Boston Inc. recently unveiled the completed 1912 Upham's Corner Comfort Station in Boston's Dorchester neighborhood after a $1.9 million rehabilitation project that converted the long abandoned former public bathroom building into a full-service restaurant.
The restaurant, Comfort Kitchen, above, owned by four local Dorchester residents, features "comfort food" of the African and Asian diasporas and emphasizes the importance of immigration to the food and restaurant industry.
Historic Boston Inc. was designated by the City of Boston to redevelop the Comfort Station in 2015. Through shared networks, HBI and Comfort Kitchen's partners met and agreed to work together to restore the building for a restaurant and café.
Labor of Love Preservation Maryland's national workforce development program The Campaign for Historic Trades is leading the national movement to strengthen and expand historic trades careers, providing all tradespeople with clear pathways, secure employment, and accessible education. The Campaign is currently creating numerous open-education training resources that will be available online in both English and Spanish. Partnering with the Centro de Conservación y Restauración de Puerto Rico, Inc., The Campaign is working to translate existing printed educational materials, as well as video assets, into Spanish. Instructional videos will also include audio transcriptions and subtitles so both English and Spanish speakers can use the preservation training resources.
'Moving on Up' Preservation Buffalo Niagara has teamed up with the Empire State Development "East Side Avenues" program to provide $5 million in stabilization funds for the East Side of Buffalo, NY. The program provides up to $150,000 per applicant to complete critical structural work repairs to help stop further decay and prevent demolition. In 2023, the groups are working to distribute nearly $2 million of the fund to building owners. Submitted project applications are reviewed and prioritized based on: property location, National Register eligibility, likelihood of future redevelopment, urgency of stabilization measures, impact on the neighborhood, community support, the applicant's residency, the applicant's development experience, and preservation easement: Building owners who are willing to enter into a 10-year preservation easement on the property with Preservation Buffalo Niagara are given preference.
Gimme Shelter Since 1926, Billy Webb Elks Lodge has served African Americans in Portland, Ore., as a Black YWCA, USO center, refuge for those displaced by the 1948 Vanport flood, NAACP headquarters, Urban League and Congress of Racial Equality meeting place, and as Black Elks Lodge at a time when the Elks prohibited Black membership. In 2020, the preservation organization Restore Oregon listed the lodge as an Oregon Most Endangered Place.
In September 2021, a fire left the building uninhabitable. Restore Oregon is assisting the Billy Webb Elks Lodge with technical support, project management, and fundraising. The lodge recently received a $140,000 grant award from the African American Cultural Heritage Action Fund to hire staff and a $20,000 grant from Oregon Heritage to restore its historic wood windows. Additional local funding requests are in process, and construction was scheduled to begin this summer.
This story appeared in the 2023 Autumn issue of American History magazine.
historynet magazines
Our 9 best-selling history titles feature in-depth storytelling and iconic imagery to engage and inform on the people, the wars, and the events that shaped America and the world.
Source link