Nature
how climate change intensified the death and devastation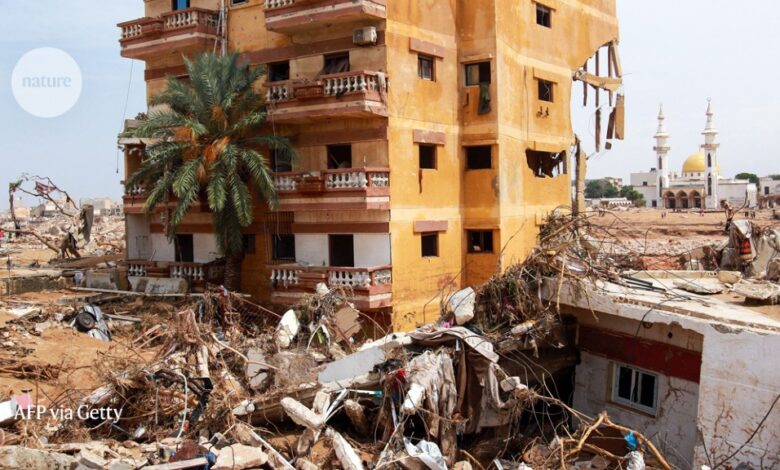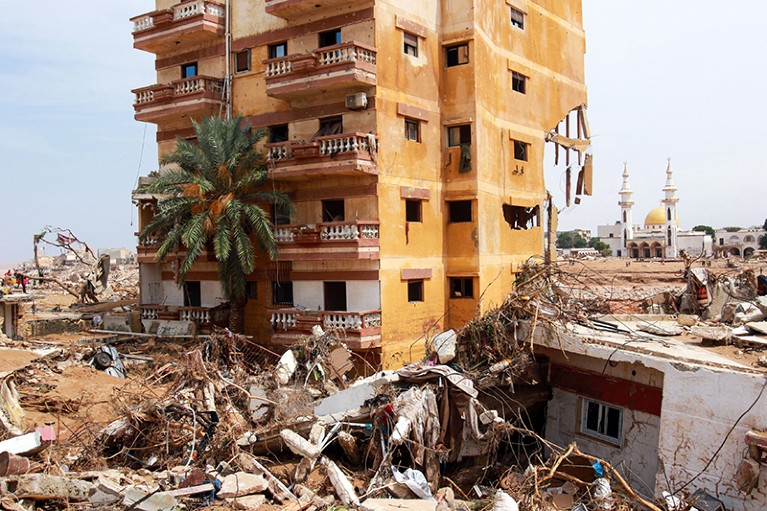 There are fears that 20,000 people have died in Libya in devastating floods that began on 11 September. The official death toll of more than 5,000 is likely to increase: at least another 10,000 people are missing.
Two dams collapsed, releasing an estimated 30 million cubic metres of water into the city of Derna. Other towns and cities were also affected.
The immediate cause was extreme rain: the equivalent of a year's rainfall in 24 hours. The World Meteorological Organization (WMO), based in Geneva, Switzerland, recorded many areas in Libya receiving 150–240 millimetres of precipitation. The town of Al-Bayda reported 414.1 millimetres in 24 hours, a record. In an average year, Derna gets 274 millimetres of rain, according to the German Weather Service.
Researchers Nature spoke to say that climate change combined with the effects of Libya's six-year civil war and subsequent crisis of governance exacerbated the disaster. "It's the curse of war and weather," says Mark Zeitoun, director-general of the research centre the Geneva Water Hub.
Supercharging Storm Daniel
Flooding specialists say the rainfall was unusually severe, and climate change probably intensified it by supercharging Storm Daniel, a low-pressure weather system that formed over the Mediterranean Sea around 4 September. According to the WMO, the storm caused record-breaking rainfall in Greece on 5–6 September. One weather station in the Greek village of Zagora reported 750 millimetres of rain in 24 hours, which the WMO says is "the equivalent of about 18 months of rainfall".
The storm then intensified over the sea, becoming what meteorologists call a Medicane: a Mediterranean storm with hurricane-like characteristics. It made landfall in Libya on 10 September.
The National Meteorological Centre in Tripoli is reported to have issued severe-storm warnings 72 hours before Storm Daniel hit Libya, notifying all governmental authorities and urging preventative measures. A state of emergency was declared in eastern Libya, but this did not translate into a successful emergency response.
Unprecedented events
The rainfall and flooding are unprecedented in Libya, says geoscientist Jasper Knight at the University of the Witwatersrand in Johannesburg, South Africa. The country is sheltered from Atlantic storms by the Atlas Mountains to the west, so its main source of weather is the Mediterranean Sea. "The Mediterranean coast of Libya is relatively green," he says, but it has not seen such heavy rain in decades. "When you go further inland, it gets very dry very quickly," he says. "I can't even think of the last time when [rain] extended further inland."
More frequent and severe extreme weather events are among the expected and observed consequences of climate change. This was confirmed in the Sixth Assessment Report of the Intergovernmental Panel on Climate Change. The report states that there is high confidence that "the frequency and intensity of heavy precipitation events have increased since the 1950s over most land areas for which observational data are sufficient for trend analysis". It adds: "human-caused climate change is likely the main driver".
Although no one can say for certain that a given event was caused or worsened by climate change, attribution studies can estimate the probability that climate change affected Storm Daniel, says Günter Blöschl, a hydrologist at the Vienna University of Technology. "The answer to that is, at this stage, without detailed analysis, yes. There is quite a clear causal link."
"That intensification comes from the increase in sea surface temperatures," agrees Hayley Fowler, who studies climate-change impacts at Newcastle University, UK. Raised sea surface temperatures injected energy and moisture into Storm Daniel, escalating the winds and rainfall.
The sea surface temperatures were "not exceptionally high", but did get above 26 °C, says Álvaro Pimpão Silva, a climate specialist at the WMO. That is "more than enough to enhance and fuel such storms after they develop". Furthermore, "near the coast of Libya, [sea surface temperatures] were above 27.5 °C".
Another possible factor is changes in jet streams: high-altitude air currents that strongly affect weather patterns. Storm Daniel was held in place for many days by an 'omega block', in which the jet stream bent into a shape resembling the Greek letter omega, says Fowler.
Such blocking events have caused many extreme weather events in Europe, including severe flooding in Germany in July 2021, says Blöschl.
And there is evidence that climate change is making blocking events more frequent. "There's definitely been a shift in patterns over the last three or four years," says Fowler. "The jet stream in particular seems to have been becoming much more wavy."
It is not yet certain that climate change is affecting blocking, says Blöschl. He is studying the question but is not yet ready to publish his results. "It's plausible," he says, but "not yet proven". However, Europe does seem to be seeing floods more often: in a 2020 study1, he and his colleagues showed that the past 30 years have seen more floods than any other period in the past 500 years.
Sanctions and rival governments
There is consensus that the political and socio-economic situation in Libya has also contributed to the severity of the disaster. Libya was ruled by military leader Muammar Gaddafi for decades until the Arab Spring. When he was deposed in 2011, Libya was engulfed in a civil war, and was made subject to international sanctions the same year. "The country is in disarray," says Knight. It currently has two rival governments — one in the west and one in the east — and the economy is struggling.
According to Zeitoun, the literature on the impact of war on infrastructure shows that if sanctions are placed on a country, maintenance of critical infrastructure cannot be kept up. "Sooner or later they will fail," he told Nature.
Libya's poor infrastructure was as important as the extreme weather in creating devastation, says Blöschl. It is likely that the dams above Derna were not constructed to high standards and not regularly maintained, he says. "Lack of maintenance is certainly one of the reasons that contributed to the disaster."
The problems extend to "social infrastructure", including "the governance of flood defence", adds Blöschl. There need to be warning systems that reach everyone who is at risk, and those people need to be trained in how to respond. "Flood drills are rarely done," he says. If leaders "want to be prepared, we need to practice it regularly".
"If the country had been better prepared in terms of preparedness plans and response plans, 5,000 people wouldn't be dead now," says Zeitoun.
Source link