Tech
Unveiling the Best Cryptocurrency Interoperability Solutions in 2023
Cryptocurrencies have revolutionized the financial landscape; nevertheless, a significant challenge persists. The lack of interoperability and compatibility between different cryptocurrency networks. This blog post will explore the best solution to bridge these networks effectively, enabling seamless transactions and fostering widespread adoption. Get ready to be amazed as we reveal a groundbreaking technique that will transform the cryptocurrency world!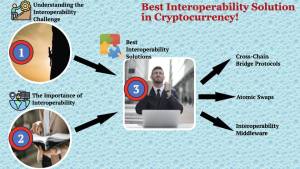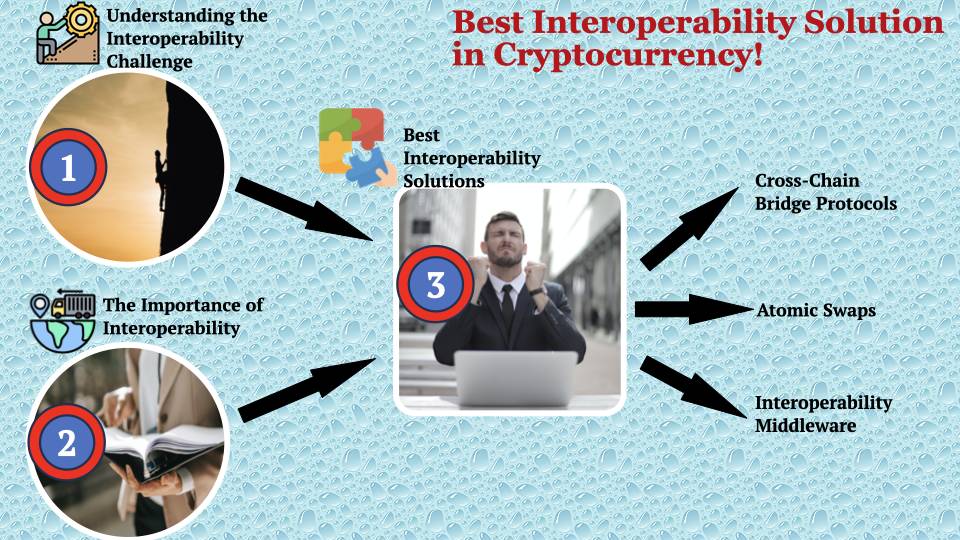 1. Understanding the Interoperability Challenge:

Interoperability refers to the ability of different cryptocurrency networks to communicate and transact with each other.
The lack of interoperability hinders the free flow of assets and data across networks, limiting their potential.
How to Best Tackle Crypto Volatility- The Ultimate Investor's Solution Guide (from: theinformedminds dot com).
2. The Importance of Interoperability
Interoperability is crucial for achieving mass adoption and creating a robust decentralized financial ecosystem.
It enables cross-chain transactions, making it easier for users to move assets between different cryptocurrencies
3. Best Interoperability Solutions
3.1 Cross-Chain Bridge Protocols
3.1.1 Enhanced Asset Security:
Cross-chain bridge protocols use cryptographic techniques to ensure the security and integrity of asset transfers.
Users can confidently move their assets across networks, knowing they are protected from threats.
3.1.2 Interoperability Across Different Blockchain Types
Cross-chain bridge protocols support interoperability between different cryptocurrencies and across various blockchain types like Ethereum, Binance Smart Chain, and others.
This broadens the scope of potential use cases and applications for cross-chain transactions.
3.2 Atomic Swaps
3.2.1 Decentralized and Privacy-Preserving
Atomic swaps are entirely peer-to-peer and do not require third-party involvement, ensuring decentralization and trustlessness.
Users can exchange cryptocurrencies directly without compromising their privacy.
3.2.2 Risk Mitigation
Atomic swaps eliminate the need for centralized exchanges, reducing the risk of hacks or security breaches.
It enhances the overall resilience and stability of the cryptocurrency ecosystem.
3.3 Interoperability Middleware
3.3.1 Seamless Smart Contract Integration
3.3.2 Protocol Agnostic Approach
Interoperability middleware is designed to be protocol agnostic, meaning it can work with various blockchain networks regardless of their underlying technology.
This flexibility simplifies the process of integrating new blockchains into the ecosystem.
 Best 10 Cryptocurrencies to Invest in for Maximum Profit in 2023!(from: theinformedminds dot com). 
4. The Game-Changing Technique: Decentralized Oracles
4.1 Trustworthiness through Decentralization
Decentralized oracles source data from multiple independent nodes, ensuring data accuracy and preventing single points of failure.
This decentralized approach increases trust in the data provided to smart contracts.
4.2 Data Validation Mechanisms
Decentralized oracles use cryptographic proofs and consensus algorithms to validate data before it is used in smart contracts.
This validation process enhances the reliability of data feeds and reduces the risk of manipulation.
5. The Advantages of Decentralized Oracles
5.1 Real-Time Data Feeds
Decentralized oracles provide real-time data, ensuring accurate and up-to-date information for smart contracts.
This reduces the risk of erroneous transactions and enhances the overall security of the ecosystem.
5.2 Smart Contract Flexibility
By connecting with external data sources, decentralized oracles enable smart contracts to execute a wide range of functions.
This opens up endless possibilities for the use of cryptocurrencies in various applications.
Best Strategies- How to Navigate the Limited Availability of Cryptocurrency ATMs and Exchanges! 
6. The Shocking Revelation: Decentralized Governance
Decentralized governance models empower the community to make critical decisions regarding network upgrades, interoperability standards, and protocol improvements. This level of decentralization ensures a fair and transparent ecosystem that evolves with the needs of its users.
6.1 Inclusive Decision-Making
Decentralized governance gives every participant in the network a voice in decision-making processes.
It ensures that a select few do not control important decisions but are influenced by the community's collective wisdom.
6.2 Upgradability and Flexibility
Decentralized governance allows for swift upgrades and improvements to the network's interoperability standards and protocols.
The system can adapt to evolving requirements and technological advancements without centralized bottlenecks.
7. Conclusion
Bridging cryptocurrency networks through the best interoperability solutions, such as cross-chain bridge protocols, atomic swaps, and interoperability middleware, has been a significant step toward the industry's growth. However, the integration of decentralized oracles and governance will truly revolutionize the cryptocurrency space. Embrace the future of finance with interoperable networks, decentralized oracles, and community-driven governance – the ultimate combination for a seamless and robust cryptocurrency ecosystem.
8. Frequently Asked Questions
Q1: How do I move crypto between networks?
A: You can move crypto between networks using a crypto bridge or a decentralized exchange (DEX). First, you must choose a bridge or DEX that supports the specific cryptocurrencies you want to transfer. Then, follow the bridge's instructions to initiate the transfer, typically locking the crypto on one network and minting or unlocking it on the destination network.
Q2: What is the best crypto bridge?
A: The best crypto bridge depends on your specific needs and the cryptocurrencies you want to bridge. Some popular crypto bridges include Polygon (formerly Matic), Ren Bridge, and Binance Smart Chain Bridge. It's essential to research each bridge's features, security and supported assets to determine the best fit for your requirements.
Q3: What is a crypto bridge?
A: A crypto bridge is a platform or protocol that enables the seamless transfer of cryptocurrencies and tokens between different blockchain networks. It acts as a connector, allowing assets to move from one network to another while maintaining their value and integrity.
Q4: Can you bridge Bitcoin to Ethereum?
A: You can bridge Bitcoin to Ethereum using various decentralized solutions. For instance, the Wrapped Bitcoin (WBTC) token is an ERC-20 token backed 1:1 by Bitcoin and can be used to bridge Bitcoin onto the Ethereum network.
Q5: Can I swap coins between networks on MetaMask?
A: MetaMask allows you to swap coins between compatible networks using its built-in Swap feature. This feature provides a simple way to exchange assets without needing external platforms or crypto bridges.
Q6: What happens if I send crypto on a different network?
A: If you send crypto to an address on a different network, the transaction will likely fail, and your funds may be lost. Different blockchain networks have their own unique addresses and protocols, so you must ensure that the receiving address matches the network you intend to use.
Q7: Why do you need to bridge crypto?
A: Bridging crypto is necessary to enable interoperability between different blockchain networks. By bridging, users can access a wider range of applications and financial services on other networks, fostering greater adoption and utility for cryptocurrencies.
Q8: What are some crypto bridges?
A: Some well-known crypto bridges include Polygon (Matic) Bridge, Ren Bridge, Wrapped Bitcoin (WBTC), and Binance Smart Chain Bridge. Each of these bridges facilitates the transfer of assets between different blockchain networks.
Q9: How do you bridge tokens?
A: To bridge tokens, you typically need to lock the tokens on the source network and then mint or unlock them on the destination network using a compatible crypto bridge. This process ensures that the tokens maintain their value and representation as they move between networks.
Q10: How to build a blockchain bridge?
A: Building a blockchain bridge involves creating a secure protocol or platform that allows tokens to move between different blockchain networks. The process includes developing smart contracts, ensuring security measures, and establishing a consensus mechanism for validating transactions.
Q11: How long does it take to bridge crypto?
A: The time it takes to bridge crypto between networks can vary depending on the bridge's design and network congestion.In some cases, the process may be relatively quick; however, in others, it could take several minutes or more.
Q12: Are crypto bridges safe?
A: Crypto bridges can be safe if they are well-designed, audited for security vulnerabilities, and have a track record of successful operations. However, it's essential to exercise caution and conduct thorough research before using any bridge to ensure the safety of your assets.
Q13: What is cross-chain in crypto?
A: Cross-chain in crypto, in other words, denotes the ability of cryptocurrencies or tokens to function and interact across various blockchain networks. Consequently, this enables smooth transfers and transactions between networks that would otherwise remain isolated from each other.
Q14: What is the difference between swap and bridge in crypto?
A: In crypto, a swap involves exchanging one cryptocurrency for another within the same network or blockchain. Conversely, a bridge facilitates the transfer of assets between different blockchain networks, enabling tokens to exist and function on multiple platforms simultaneously.
Q15: Will Ethereum ever pass Bitcoin?
A: The future performance and ranking of cryptocurrencies like Ethereum and Bitcoin are uncertain and subject to market dynamics and technological advancements. While Ethereum has shown significant growth and utility, whether it will surpass Bitcoin in terms of market capitalization or adoption remains speculative.
Featured Image Credit: RDNE Stock Project; Pexels; Thank you!
Source link